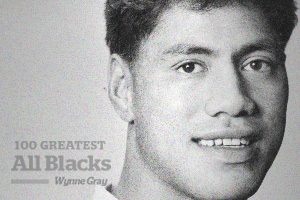 "My Dad used to write to me and said TP (McLean) had called me the Black Panther in his reports," Waka Nathan recalls.
"It didn't bother me, I quite liked it and then the French started calling me the Panthoire Noire, it was all in good humour."
Nathan needed his renowned sparkle to deal with two All Black visits to Europe four years apart and two broken jaws. In '63 he was told he would be out of rugby for six months but was back in one although he was very grizzly in that short absence because his enormous appetite was restricted when his mouth was wired up.
When his jaw lost a battle with a punch four years later, the idea of another bout of liquid food had Nathan thinking he would return home.
"I was pretty disappointed and thought damn it but Fred (Allen) talked me out of it."
Nathan played the last three games but did not get a run in the internationals.
During his career he also suffered a ruptured Achilles tendon, torn knee ligaments, broken fingers and a displaced vertebra but he never played in a losing All Back side in his 14 internationals.
Tests against the Wallabies bookended his career from '62 to '67 when he was "that most virile runner with the ball in hand, great at exerting pressure close to the forwards," said Colin Meads.
One who could attest to Nathan's attention was David Watkins, the small but very nimble Lions five eighths in '66. Watkins was Nathan's target by order of Allen, and the flanker did a serious job on the dangerous visitor.
"He said to me if you don't tackle that Watkins you'll be up beside me in the stands for the next test - and no stiff arms either."
Statistics
Date of birth: 8 July 1940
Position: Openside flanker
Matches: 37
Tests: 14
Test debut: 26 May 1962 v Australia, Brisbane
Last test: 19 August 1967 v Australia, Wellington
Province: Auckland
Test tries: 4
Test points: 12