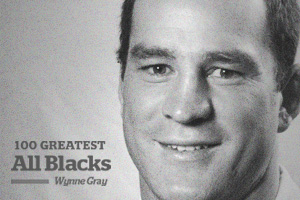 Tough men those Brooke boys, hard as you like, nothing stops them. That sort of talk was understandable as the brothers went about their business with Auckland and the All Blacks.
So it was strange to discover one day in the early 90's that the yelping coming from the physio room at the Auckland rugby training, emanated from Robin Brooke. He had strained a calf muscle and was struggling with his pain threshold during some deep tissue treatment.
Many of his opponents in 62 tests suffered similar problems. Brooke was not as extrovert in his rugby as elder brother Zinzan, but he was very mobile and unrelenting in his role as lock.
His athletic leap allowed him to flourish at the front of the lineout while his front row valued the power he generated in the scrum. And if there was any work needed to quell some opposition mischief, Brooke's name was near the top of the enforcer's list.
His skills flourished in Super rugby as he showed how tight five forwards could add an extra dimension to sides' desire to play total football.
All Black coach Laurie Mains may have had a dim view of Auckland and its inhabitants but he valued Brooke as a key man in his tight five. That respect was returned in 1995 when Robin and Zinzan hoisted Mains on their shoulders at his test coaching farewell in Paris.
Brooke was tipped to be the All Black captain in 1998 but ructions at the Blues saw Taine Randell elevated to replace the injured Sean Fitzpatrick. Moose as he was known continued on to the 1999 World Cup but left the international stage after the crushing semifinal defeat to France.
Statistics
Date of birth: 10 December 1966
Position: Lock
Matches: 69
Tests: 62
Test debut: 6 June 1992 v Ireland, Wellington
Last test: 31 October 1999 v France, London
Province: Auckland
Test tries: 4
Test points: 20