Midget car driver says escaping `fast guys' at Springs was surreal.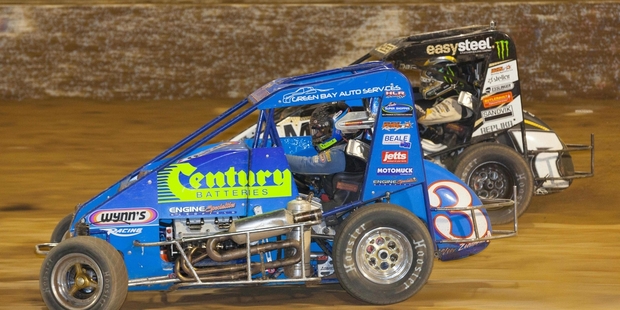 Auckland's Hayden Williams was on the verge of tears after the biggest win of his career in the Barry Butterworth Memorial at WXC Speedway-Western Springs on Saturday night.
The 23-year-old midget car driver managed to escape the "fast guys" early on in the feature race, which was run in the now-unusual format of starting the fastest cars at the rear of the grid.
"It is just so unbelievable; the traffic worked well for me coming from the back and I just missed all the carnage. We got a good break and then just took everything as it came from there," he said.
"To be standing on top of the podium and doing it for Barry [Butterworth] from the back is a surreal feeling."
With five laps remaining of 40, it seemed the best Williams could do was third place as two Americans, Darren Hagen and Jerry Coons Jr, battled for the lead in the distance.
But to the delight of a vocal walk-up crowd, the visitors crashed into each other in turn four, putting both out of the race and Williams in front.
"I knew we had a good car even though we dropped back a bit from ... Jerry and Darren, so I was sort of praying they would take each other out and they did," said Williams.
"Third place in the 50-lapper was great for me, but to win the Barry Butterworth Memorial is just awesome, I don't know what to say."
Fellow Aucklander Brad Mosen drove from grid 17 to finish second, while Shane O'Connor enjoyed the best finish of his season in third.
This weekend the NZ Grand Prix sprint cars come to WXC Speedway.