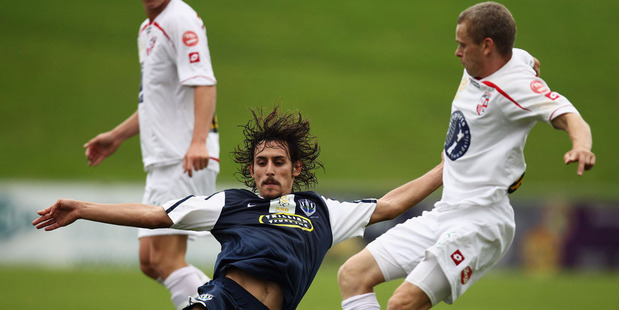 Waitakere United set up a mouth-watering semifinal tie against Auckland City after beating Canterbury 3-1 at Fred Taylor Park yesterday.
The champions needed victory to keep alive their title defence and they now face a two-leg battle against their great rivals in a bid to qualify for a seventh straight final.
Waitakere, winners of the last four ASB Premierships, stuttered through the season and suffered five defeats, setting up yesterday's must-win match and virtual quarter-final against Canterbury.
The visitors needed a draw to seal fourth spot but their chances of earning that result faltered badly in a first half determined by the quality of Waitakere's set piece.
Richie Cardozo scored his ninth and 10th goals of the season - finishing second behind Emiliano Tade in the golden boot race - with both goals coming from an educated left-foot delivery.
The first arrived directly from a corner, with Canterbury keeper Adam Highfield slipping, while the second was a 30-yard free kick beautifully curled into the top corner.
Canterbury had chances to get back into the game after falling behind but their efforts were continually thwarted by a combination of poor finishing and excellent goalkeeping from Danny Robinson.
They were made to pay for their profligacy midway through the second spell when Maksim Manko made the game safe, drifting past two defenders before smashing home from the edge of the area.
Canterbury grabbed a late consolation and Russell Kamo's strike was probably the pick of the goals.
However, it wasn't enough to prevent a disappointing end to their season.
Auckland will be hoping to avoid such disappointment when their semifinal tie against Waitakere begins at Fred Taylor Park next weekend, with the O-League champions aiming to win back the trophy they last claimed in 2009.