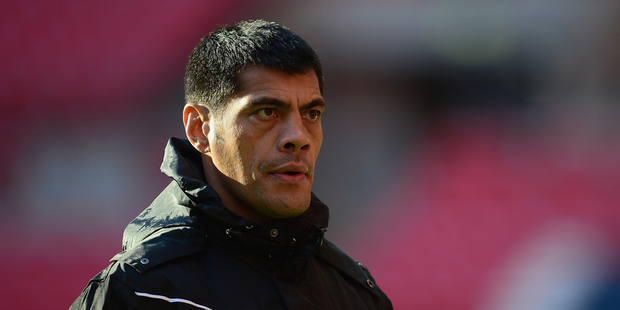 Players who mix sleeping pills and energy drinks in future will not play for the Kiwis as the NZRL look to take a tough stance on the use of prescription pills in rugby league.
The NZRL reviewed last year's World Cup campaign and concluded the misuse of prescription drugs and energy drinks, while not the principal reason for their heavy 34-2 defeat to Australia in the final, was a factor in their poor performance.
It's a problem that's widespread in rugby league and the NRL last week announced plans to test players for prescriptive drugs. Some clubs, including the Warriors, have also implemented strict controls.
Mixing sleeping pills and energy drinks is supposed to give a high similar to recreational drugs but is not illegal or banned by drug-testing agencies. The New Zealand players imposed an alcohol ban during the World Cup but a "small percentage'' used pills and energy drinks as an escape after games.
Stephen Kearney, who was today confirmed as Kiwis coach for another two years, was first aware it might be a problem on the bus trip from Leeds to London two days after their quarter-final defeat of Scotland.
"On the way down to London, I saw possible effects of it, but it was a bus trip and I wasn't paying particular attention to what was going on,'' he said. ``The effects were still evident on the Monday so myself and [manager] Tony Iro met with the senior leadership group. We needed to address the issue and we did so.''
The use of pills created a division in the group and Sonny Bill Williams and Kieran Foran were two players reportedly singled out at a players-only meeting and told it must stop. At least five players were reportedly involved across the tournament.
Some players, however, continued the practice and, while he didn't see any evidence of it in the days leading up to the final, Kearney is convinced it compromised their preparations for the final at Old Trafford.
"It's not one of the most disappointing, it is the most disappointing [aspect of the World Cup]. Very disappointing. When you are challenging for a World Cup title against Australia, you can't compromise preparation. The actions of a few did that.
"It wasn't isolated to one or two individuals. If that was the case it would have been easy to make decisions [around selection]. It was hard to establish who and the number, because it does have a different effect on individuals. Some might have been [using it] one night, some might have been another, so it was very hard to make that call at the time.
"One of our values as a team is to have a country that's proud of us, so straight away that was a kick in the guts.''
The NZRL, with help from Kearney and high performance manager Tony Iro, will draw up a code of conduct players will be required to abide by and Kearney warned the consequences of breaking that code will be severe.
"If they don't want to align themselves with that, then the selection process is going to be easy. We have identified where we want to be by the next World Cup and how we are going to get there and we have policies and procedures we need to put in place to guard ourselves against an issue similar to this raising its head again.''
It's not clear, however, whether the slate will be clean ahead of May's Anzac test in Sydney or it will harm some player's chances of selection for that match.
- APNZ