Hesson chuffed after making significant progress against Windies and India.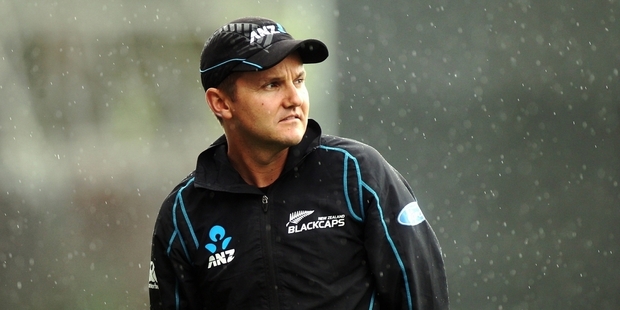 Amid the hearty, and heartfelt congratulations resonating around the country in the wake of the 1-0 cricket series win over India, spare a thought for the man calling the shots.
Mike Hesson admitted he has been chuffed at the progress New Zealand have made this season.
He has had a tough time at the helm. New Zealand had some dark months last year, and he felt the wrath of some sections of the cricket community over his decision to replace Ross Taylor as captain with Brendon McCullum at the end of 2012.
But Hesson's a man with firm convictions and he has had a rich reward in the form of New Zealand's performances against the West Indies and, especially, heavyweights India.
"I think it's been a great summer," Hesson said yesterday. "We've performed in all three forms and that's something we've not always been able to do. To do it all summer under pressure, yeah, it's a really proud moment."
He admitted he's developed as a coach "every day, to be fair".
"It's not a position you can prepare yourself for. Coaching your country is a very special time and to string together a summer like we've had is really pleasing.
"We're not there yet, but certainly we're heading in the right direction."
Along the way, Hesson said lessons had been learned.
"You make mistakes every day and hopefully you try and rectify them the following day. You get to know your players and what makes them tick and they get to know you better as well. The further that relationship can grow the more you can help each other."
Hesson's off to Abu Dhabi for a camp ahead of the world T20 tournament in Bangladesh next month.
The New Zealand squad leave on March 8 and have a couple of warmup games against a Worcestershire side, before getting to Bangladesh.
It'll be primarily about acclim-atising to the heat and getting used to pitch conditions significantly different from Eden Park and the Basin Reserve in the past fortnight.
New Zealand will have four games before the tournament starts, including two official warmups against Pakistan and Australia. Hesson expects all 15 players will get a run to ensure there are plenty of options.
Among the aspects New Zealand want to tidy up is being aware of the pressure that will be exerted.
"We need to make sure our skills are good so when guys are coming at you hard we know how to control it," he said. "If we can do that, we can win tight games."
Do that and New Zealand will be right in the frame.
Some of the test squad will be back in domestic action next week; some will put their feet up. Just a hunch, but don't expect Brendon McCullum to be lining up for Otago in Dunedin on Sunday.
"It'll depend on the workload they've had," Hesson said.