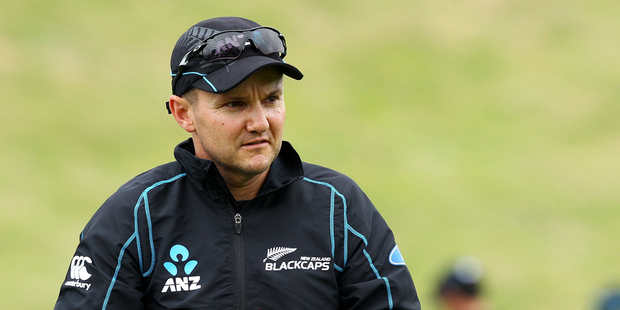 One test match doesn't make a summer but Black Caps coach Mike Hesson was pleased with the fight his men showed during the drawn second test against India at the Basin Reserve.
New Zealand completed an impressive 1-0 series victory yesterday after they forced the test to a fifth day, which looked out of the question when they were on the rack at 94-5 in their second innings on day three.
Skipper Brendon McCullum eventually made a New Zealand-record 302 and with help from centurions BJ Watling and Jimmy Neesham the home side did enough to force a draw.
"It defined the way we want to play our cricket,'' Hesson said today. "Sure, we don't want be 200 behind but we lost pretty much every important toss over the whole summer and got ourselves in some tricky positions and kept fighting out of it. We were in the trickiest position of all two and half days ago. The way Brendon and BJ played was exceptional.
"The way Jimmy came out and took the pressure off Brendon from a scoring point of view, he just went about his work. He'd been sitting there nine hours. He went up against the third new ball and we were still only 200 ahead, still under pump, to play with the freedom and the skill he did was exceptional.''
McCullum batted through the pain of various injuries, which made the marathon knock more memorable, Hesson said.
"He was pretty sore after day three and four but I guess its a good sore,'' Hesson said. "Once he got 300 he looked a lot fresher than an hour before. It was just a special time to be part of, all the guys thoroughly enjoyed it.
"We saw that real emotion come out when Brendon got his 300. We all sat on the same seats for a couple days, ate the same food and tried do as little as we could. When he got to 300 you saw true emotion come out and we were all delighted for him.
The level of public support for McCullum and New Zealand wasn't lost on Hesson.
"Yesterday stopped a nation to a degree,'' he said. "A lot of people took great deal of satisfaction out of it. As a New Zealander, not only as coach, it was a pretty special moment. A lot of people were touched by it and gained lot satisfaction from it and quite rightly so.''
- APNZ