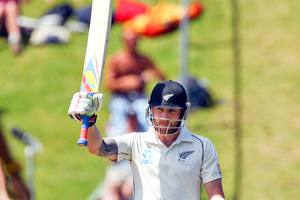 Martin Crowe has lauded Brendon McCullum's achievement in breaking his 23-year-old record for New Zealand's highest individual test score.
McCullum completed the feat with a square cut to the boundary just before midday. He received a standing ovation at the Basin Reserve before being dismissed two balls later for 302.
Crowe made 299 at the same ground in 1991 to stave off imminent defeat against Sri Lanka in a then world record partnership of 467 with Andrew Jones. The match finished in a draw.
The New Zealand cricketing great said he was on a course this morning so didn't see McCullum's achievement live. However, he felt "awesome, because it's so good for the game in New Zealand".
"That score defined who I was, but not who I am anymore," Crowe said.
"Privately I was wanting Ross [Taylor], Brendon or Kane [Williamson] to do it after seeing them make hundreds and double hundreds this summer and everything has aligned at the Basin during this test.
"I was asking Ross for Brendon's number during the test because I could see it was a real possibility. During the other 200s this summer, partners were lost at the other end. This time it was a beautiful wicket and he was playing the game not for himself but for his team. It was a case of survival - that presented the perfect scenario to keep him on target.
"Brendon deserves it. He's endured enough pain over the course of his career. However, during the last few innings he has completely removed any emotion from his batting. It has enabled him to turn in these great performances.
"He was getting on with the now and reacting to it. He focussed on nothing but getting the job done."
Yesterday, when McCullum was left 281 not out, Crowe said the skipper had demonstrated the "ultimate example of leadership in taking a side out of one of the biggest holes to a point where they can still win the series."
"To score 500-plus runs in two weeks when you know he has some ailments, well, superlatives don't really do it justice. It is monumental how he has dragged people with him," Crowe said.
McCullum's knock comes on the back of 224 in the first test at Eden Park. He joins Sir Donald Bradman and Wally Hammond as the only test cricketers to score a double and triple century in consecutive tests. Bradman did it twice.