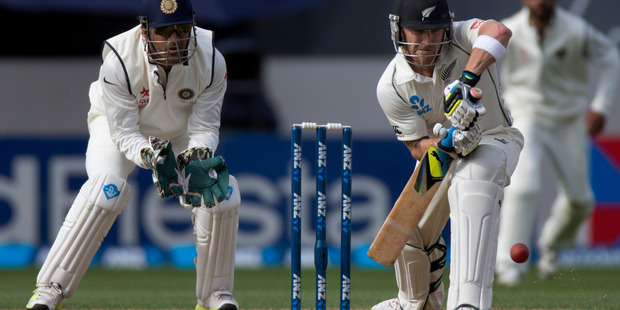 History beckoned for Brendon McCullum when he woke up this morning, and he wasn't about to let it slip.
It took the New Zealand captain 32 balls to get from his overnight 281 to become New Zealand's first triple test centurymaker. He was out two balls later, but really it didn't matter.
McCullum makes history with 302
By that point, New Zealand's lead had been pushed out to 379, Jimmy Neesham had his century on debut - only the tenth New Zealander to achieve that - and New Zealand's grip on the test was sure.
McCullum soaked up the prolonged standing ovation. The crowd - and there were queues outside the Basin Reserve leading up to the start of the final day's play of the home international summer - clapped defensive shots urging the skipper ever onwards.
He had scares along the way. Zaheer Khan beat him early, Ishant Sharma was perilously close to getting his edge on 293.
However McCullum also showed he wasn't fancying doing it in singles. There were a couple of vigorous pulls for four and when Zaheer Khan gave him the chance he stepped back and cut hard to the third man boundary before raising his arms.
As the applause continued to roll around the ground, he paused before settling back into his stance. Two balls later he was gone, caught behind and the Indians shook his hand, patted his back as he made his way slowly back to the pavilion.
A tear in the eye? Hard to tell but every chance.
This is a special moment in New Zealand sport, let alone cricket.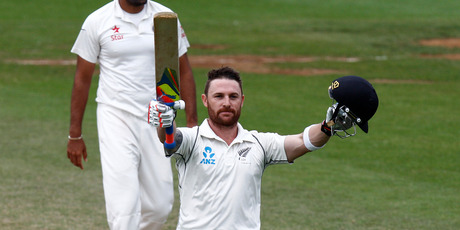 In terms of personal cricket achievement, only Richard Hadlee's nine for 52 and 15 for 123 at Brisbane in 1985 can compare.
For 23 years, Martin Crowe's epic 299 against Sri Lanka on the same ground has stood supreme among New Zealand test batting achievements.
Crowe was magnanimous towards McCullum. Records are, after all, meant to be broken. New Zealand was the only one of the eight major test nations without a triple centurymaker. Until now.
And it was fitting that the captain, who has done so much to lift New Zealand after a dark for 10 months of last year under his stewardship, should reach the milestone.
It was also a fitting way to end a summer of considerable personal, and team achievement.
McCullum's 19 runs to 300
Brendon McCullum began the day on 281, then:
282: Single to wide mid off, Ishant Sharma.
283: Single to point, Zaheer Khan
283: Beaten by Zaheer Khan outside off stump
283: Cramped by Sharma, blocked delivery.
284: Single to cover, Sharma
288: Whipped four to mid wicket, Sharma
289: Hooked single to fine leg, Sharma
293: Vigourous pull to mid wicket fence, Zaheer
293: Beaten comprehensively by away swinger from Sharma, balls falls short of wicketkeeper MS Dhoni
297: Whipped four square leg, Sharma
298: Single to wide mid on, Sharma
302: Cuts four behind point, Zaheer
302: Out, caught behind of Zaheer, 302.