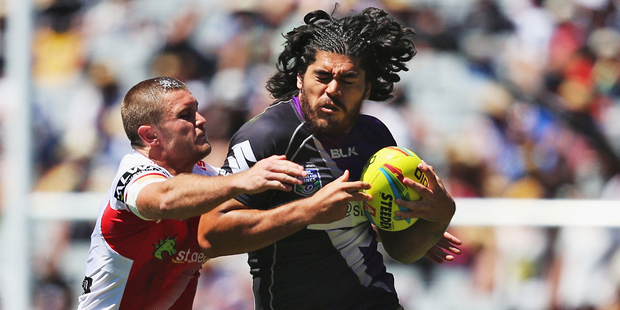 Melbourne's Tohu Harris is still to hear from Sonny Bill Williams about his controversial decision to play at last year's World Cup in the UK and France.
Harris was initially included in the Kiwis' 24-man squad for the tournament but was replaced at the last minute when Williams, who had said he was unavailable for the World Cup, had a change of heart and indicated he wanted to play.
Williams said at the time he felt for Harris and was sorry to have caused the fuss but Harris said he had not heard from the Roosters second-rower.
"I've never spoken to him (Williams) before,'' Harris told the Daily Telegraph. "[Coach] Stephen Kearney was the one who rang me and told me. He was constantly in contact to see how I was.
"[Williams] is a great player in his own right, but the whole thing was out of my hands. It was their decision.
"It was obviously disappointing, but there was nothing I could do about it. All I could do is look forward to this season.''
Williams was named last year's International Player of the Year during the tournament but could do little as Australian steamrolled the Kiwis 34-2 in the final.
Harris is hopeful of making the Kiwis side for this year's Anzac test in Sydney when Stephen Kearney takes the team for the first time since being reappointed coach. An announcement on his reappointment is expected in the coming days.
Meanwhile, halfback Shaun Johnson has admitted he received a number of offers to switch codes to rugby union before re-committing to the Warriors.
A handful of rugby clubs in Europe reportedly sounded out Johnson, who was named MVP of last weekend's Auckland Nines, but he knocked them back. He was also courted by Penrith and the Bulldogs before signing on with the Warriors until the end of 2017.
Johnson had previously expressed some interest in playing rugby sevens at the 2016 Olympic Games, which would have necessitated a switch to rugby.
"The Olympic dream was very brief,'' Johnson told the Herald on Sunday recently. "I learned that straight away. [Sevens] was a sport I loved to watch and it would have been cool but I am very happy with my decision and not thinking twice about it. It would have been a major commitment [to switch to rugby] and there was no chance of that happening; fifteen-a-side doesn't have the same appeal for me as league does, that's for sure ... and the Olympics thing got blown out of proportion.''
- APNZ