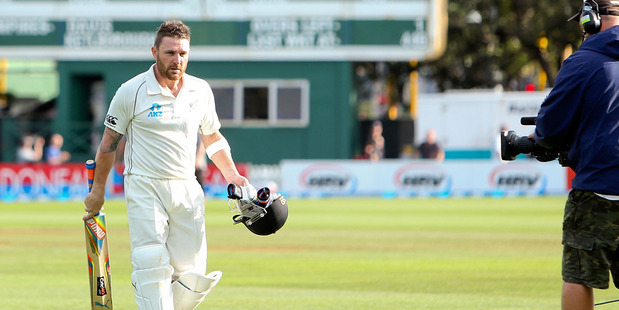 Who would have believed it? New Zealand will start today confident of avoiding defeat and perhaps even contemplating a win in the second cricket test against India which seemed unthinkable 24 hours earlier.
Brendon McCullum needs 19 runs to become the first New Zealand batsman to score a test triple century, which would overtake Martin Crowe's 299 from 23 years ago.
New Zealand will start the final day of the international season this morning at 571 for six, holding an overall lead of 325. As they trod wearily from the Basin Reserve last night, India looked as if they knew the score.
The pitch is still good, they are at New Zealand's mercy, and this team isn't about to leave ajar a door for a hectic late finish today.
Dad hoping to see his boy's triple century
Watling's guts keep match alive
Test of team hunger

Considering the state of the test two days ago, McCullum's is one of the finest performances by a New Zealand captain.
It wasn't a simple job of cheerily carving an attack apart. It took guts as well as batting smarts and a fierce will not to let slip any ground won back from India.
There were no chances given by either McCullum or BJ Watling in their record-breaking 352-run partnership and Watling's dejection on falling lbw just after tea told a vivid story.
Yesterday was a statisticians' nirvana. The record books got a rare thumbing through as McCullum and Watling set about first defying the Indian bowlers, then delivering telling punches, and all the time acting as guardians of a hard-won position in the series.
After Watling, Jimmy Neesham showed he has plenty about him, with an unbeaten 67 on debut.
There had been just a feeling that if one of the centurymakers had got out, the innings might go the way of the house of cards when a bottom one is pulled out.
That it didn't is hugely to Neesham's credit because by that point, McCullum was knackered.
His mind was fried through the final hour, as he admitted last night.
"The last hour was a bit of a daze in all honesty and I was just trying to get through," he said.
"Thankfully 'Neesh' was playing some shots and ticking the board over because I was just hanging in there if I'm brutally honest.
"The body is a bit sore, but when you're scoring runs it doesn't hurt so much."
By stumps, you needed a moment or more to sit back to absorb all that had taken place over the day. It began with New Zealand - for all McCullum and Watling's Sunday graft - still on a precipice. The series was squarely on the line. It ended in a way only the true optimists could have imagined possible - 319 runs and a solitary wicket in the day.
"I'm really proud of BJ," McCullum said. "Everyone knows what a scrapper he is. He has that real resilient streak about him."
India exhausted the possibilities. Bowlers changed ends, there were some weird fielding settings. Captain MS Dhoni even took off his wicket-keeping pads for an over of, ahem, slow medium dribble.
There were good, bat-beating balls but no chances went to hand.
Was McCullum thinking of Crowe's mark in the final hour? Only he knows, but more likely he was simply focused on getting to stumps. After all, records do come with time.
McCullum likes a punt, but even he is unlikely to dangle a carrot for India's cavalcade of shotmakers.
Too much has been achieved, chiefly by him, but others too, for that.
Magic McCullum
- McCullum's 281 not out is his third test double century, all against India; his third hundred in five home tests this summer; and the highest score by a New Zealander against India.
- McCullum has batted 726 minutes, exceeding the old New Zealand record for longest test innings in minutes, of Glenn Turner, who spent 704 minutes at the crease against the West Indies in Guyana in 1972.
- McCullum joins Stephen Fleming on three test double hundreds, and is the first New Zealander to score back-to-back double tons in a series. He joins Turner as the New Zealanders with two double centuries in a series.
Watling's 124 was his third in tests and his highest score.