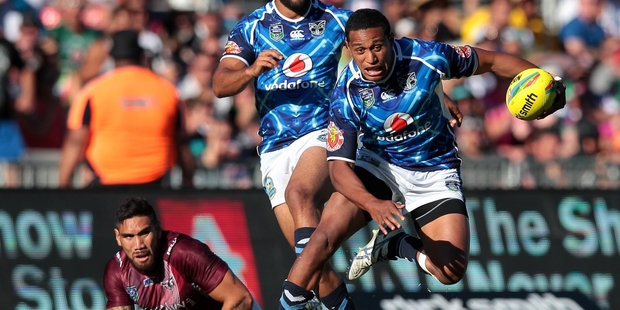 The Warriors are on the march - and the Nines look here to stay.
The Auckland side justified their favouritism with two dominant performances yesterday, and look well placed to progress deep into the tournament today. Despite early hiccups against both Canberra and Manly, the home side stormed back in each match in front of a huge and vocal crowd. They are one of only three teams (along with the Panthers and Eels) with a 100 per cent record so far.
"I think everyone's hungry, no one's carrying anyone," said Warriors captain Shaun Johnson. "Everyone's working, everyone's contributing, so that's the pleasing thing, especially [against Manly] you could see the team stood up."
The short format suits the Warriors, with their ability to offload at will and their natural flair. As well as scrambling effectively on defence, they also profited from short kick-offs - twice Glen Fisiiahi soared to regather the ball - and were willing to attack from almost anywhere.
"No one came into this comp knowing what was going to happen and it's been that the team that adapts on the run [that] can often win," added Johnson. "We've done that, kept an open mind and our big boys stood up in defence and got us that go forward."
The first day of the Nines had it all. There was spectacular action on the field and the expected array of costumes and festivities in the grandstand. Sam Tomkins made an impressive debut and the "golden oldies" like Brad Fittler and Steve Menzies justified their controversial presence (Fittler stole the show with an improbable 60m intercept try and has already expressed a desire to come back next year).
"I was hoping [to get a try coming into the tournament]," Fittler said. "They defend a little bit differently now, so at training I was taking a lot of intercepts because I didn't want to tackle Sonny [Bill Williams] at training. They all knew I was going to take an intercept, it was just a matter of when."
Fittler also managed to stop Ben Barba on an outside break and the 42-year-old felt the effects - "I tackled Fuifui Moimoi twice, I've now got a cork and a sore head" - but raved about the concept.
"It's a great format, I can't say enough about it," said Fittler. "Over time, when teams train a bit harder, they will perfect it a bit more but the same things that win you NRL games [will] win you these matches. I'd do it again next year for sure if I was in good condition and I think every ex-player should strive to come back and have a go"
Menzies looked as fit as ever, and hasn't lost much of his trademark pace or anticipation.
"I felt a bit embarrassed after that first game," said Menzies, "I made a few tackles but didn't actually touch the ball."
It was a festival occasion - with a marriage proposal (between a 'Fred Flintstone' and 'Wilma') on halfway, the obligatory streaker and a series of Mexican waves - but the focus was principally on the league.
On early evidence, the concept is a winner and the event should grow in years to come.
Cronulla and Newcastle kicked off the action, with Knights half Tyrone Roberts inking his name in the history books with the first Nines try. Soon afterwards Sam Tagataese managed another first, touching down under the posts for the first five-point try.
Both teams were the guinea pigs and you could sense the uncertainty; the Sharks had Todd Carney kicking for territory while Newcastle tended to look to attack as their last play option.
Strategies evolved over the day. Some clubs played with more structure, others went sideline to sideline, others employed a series of dummy half runners and attacking kicks became more prevalent across the day.
Some teams played with fullbacks on defence, others had all nine players in the line. There were spectacular long range tries but also snipes from dummy half and barging charges near the goal posts. Chris Sandow brought some touch rugby (or sevens) elements to the day, with his tendency to run sideways, stop and even go backwards with the ball in hand.
Some teams adapted faster than others. The Storm, Bulldogs and Cowboys seemed to be using their 13-a side play book whereas others showed invention and innovation and were rewarded for it.
Along with Johnson, one who stood out was Broncos fullback Ben Barba who delved into his bag of tricks to showcase his match-winning value for Broncos fans. Bookmakers installed Barba as equal favourite to top the Nines tryscoring list and he delivered moments of class in a format tailor-made for his dynamic attacking instincts.
In an eye-catching Broncos debut, Barba put the sword to his former club the Bulldogs, scoring a try and setting up another in Brisbane's opening 20-4 victory. He was more subdued in Brisbane's follow-up game, with Brad Fittler's intercept upsetting the Broncos 14-7.
With a few exceptions (notably Johnson) the dropkicked conversion attempts were poor, as the art of the drop goal continues to befuddle most league players.
"We had a kick off at training and I was rank, but I've come out [yesterday] and all of a sudden I can drop kick, laughed Johnson. "So I surprised myself just as much."
The action starts at midday today with the Sharks against the Titans, while the Warriors face the Cowboys at 1.45pm. Quarter-finals are underway from 3.30pm, semifinals from 5.45pm and the final kicks off at 7.30pm.