An era of increased professionalism is dawning in the Black Caps. Andrew Alderson talks to the man at the forefront of the revolution, Kane Williamson.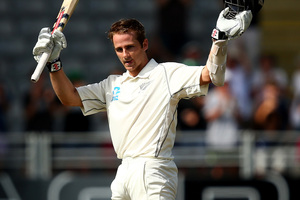 The fact Kane Williamson's captaincy prospects are talked about openly in New Zealand cricket circles as a "when" not an "if" probably sums up how his talents are respected.
His brand of professionalism leaves nothing to chance, reminiscent of Sir Richard Hadlee and Martin Crowe. There are anecdotes referring to Williamson practice regimes where coaches' arms were worn out or daylight disappeared.
This summer has effectively seen Williamson make it to cricket's Mt Everest base camp. Since October's Bangladesh tour, he has made 525 runs at 65.63 in eight test innings and 432 runs at 54 in eight ODI innings. Those figures are backed by useful off-spin and sharp fielding, particularly as a specialist gully.
The 23-year-old is one of the current set-up's most respected players; a position from which great heights can be reached.
In an international career now three-and-a-half years old, the sight of Williamson plying the bruised blade of his Gray-Nicolls at No3 is a panacea to fans used to a batting order behaving like a Jenga tower.
A couple of shaky moves used to induce collapse.
Sure, Williamson's participated in the odd crumble himself, like the 45 at Newlands and 68 at Lord's during 2013, but he's come of age.
His 102 not out to stave off defeat by South Africa at the Basin Reserve in 2012 was one of the gutsiest New Zealand test innings. His 145 not out at better than a run a ball to set New Zealand up for the ODI series victory in South Africa is another example.
There was also his innings as the youngest New Zealander to make a test century on debut as a 20-year-old against then world No1 India at Ahmedabad. At the time, former New Zealand coach and captain Glenn Turner marvelled at Williamson's ability to play off the back foot and his undemonstrative century celebrations.
"It indicated he felt the job wasn't done. If you let yourself go too much emotionally, it's hard to get yourself back," said Turner - who should know as the only New Zealander to score a 100 first-class centuries (with 103). He said the highlight was Williamson's back foot play countering the Indian spin.
"I did some work with the under-19s, when Kane was a bit younger than the rest of the group at 16," Turner said. "He stood out not only because of his natural talent but because he was one of the few who asked any questions. He was mocked and teased a bit for doing so, but I thought he's one guy who is keen to learn."
Williamson's biggest asset, next to a rigorous technique, has been an imperturbable temperament. There is an innate calm, whether he's facing his second ball or when his score's past 100. You could set the popping crease on fire and he'd still be more interested in calculating whether point's right arm is worth testing for a quick single.
Take the first test against India when he entered at 19 for one and exited at 251 for four. He left the ball confidently, knowing where his off stump was, punched with ease - as has become trademark - off the back foot, worked the ball off his pads and scampered between the wickets. The ODIs saw chips over the in-field countered by strokes which wouldn't look out of place on a snooker table, such was their adhesion to the baize.
Williamson took New Zealand past the 32nd over each time in the five matches, being dismissed at 153 for three, 174-3, 189-2, 188-3 and 193-3, which gave the middle order a chance to flourish in the 4-0 series win. He became the fourth New Zealander to score a half-century in five consecutive ODIs, joining Martin Guptill (2011-12), Roger Twose (2000-01) and Andrew Jones (who made six in a row in 1988-89).
Talk to anyone associated with Williamson and you hear tales which herald him as New Zealand's Mr Cricket. Australian Michael Hussey owns the original title but Williamson must have earned rights to a local franchise.
Part of that craving for knowledge is reflected in the overseas No3s he's gleaned knowledge from, such as South Africa's Hashim Amla and Jacques Kallis and India's Rahul Dravid. When Williamson spent a stint at Yorkshire last year, he caught up with Amla, who was playing at Surrey. He apparently asked how he was going and the South African said he'd been hitting the ball as well as he ever had. Amla had made a pair against Somerset not long before, yet he made good on his word with 151 the next day.
That forms part of the Williamson mantra - he doesn't want to be defined by the runs he scores but by the way he gets them. Some days Williamson knows he'll get out to a good ball or a brilliant catch but accepts that in return for knowing he's putting the best possible practice in place to succeed.
"I enjoy talking to players I grew up watching and working out how they achieved success," Williamson says. "Being a professional can provide quite a challenging environment at times, with a lot of distractions. I like the way those players were calm. They took everything in their stride with a measured approach."
A key part to Williamson's make-up has been his experiences in county cricket. He has had stints with Gloucestershire and Yorkshire (a contract is in place to go back this year working around the West Indies tour). Williamson saw no need to put his name forward for the Indian Premier League auction.
"County cricket's great. You play a lot, it produces some tough conditions and there is strong competition. England's 23-year-olds have played more cricket than most guys of retirement age in New Zealand. I like those experiences because you learn a lot about yourself."
Presumably more than you learn in a couple of months of IPL. The money doesn't appear to be paramount to Williamson. Love and passion for the game are key.
In Williamson, the expectations of the child prodigy are coming to the fore in the man.
One story involves Williamson scoring 120 not out in a winning chase of 160 at an intermediate school tournament. He worked the strike in such a way that he faced every ball of the last five overs.
A leadership dynamic has always been there. Now he has the chance to put it into action on the biggest stage. Some time in the next few years, it'll be with a by his name.