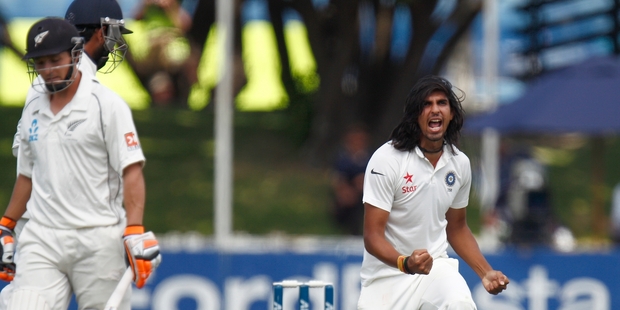 Another three-day test anyone?
The Basin Reserve produced one of those when the undermanned West Indians came calling before Christmas.
And shortly after tea on the opening day of the second and final test against India, decent odds were to be found on something similar this time.
That might be a stretch with India starting today at 100 for two, just 92 runs adrift of New Zealand, who have it all to do to get back in the contest after getting the wrong end of lopsided conditions yesterday.
This was seam bowling nirvana but there remains a strong belief in the New Zealand camp that they can do something similar to India as was done to them yesterday.
"We showed that the ball's still swinging so there's certainly the threat there if the boys can put it in the right areas often enough," New Zealand's top scorer Kane Williamson said last night.
When Indian captain MS Dhoni won his seventh straight toss on this tour, New Zealand shoulders must have slumped.
The pitch had an enticing come hither look for the seamers and Ishant Sharma, with his best test figures, six for 51, duly filled his boots. He took three for none in the space of 14 deliveries to rip the top off New Zealand's innings and at 86 for six it had taken on a funeral march for the hosts, for whom a series win is enticingly close.
Had Williamson not had a second reprieve for a bowler overstepping the line when he popped a catch to short leg on 23, the chances are things would have been far grimmer.
Williamson, spent 2 hours 50 minutes scrapping hard to survive. He put on 47 with debutant Jimmy Neesham, who in turn cobbled a further 32 with Tim Southee to get New Zealand close to 200.
It was a tough day for Tom Latham to make his test debut and he lasted just eight balls.
BJ Watling got a snorter from Sharma while Brendon McCullum's uppish drive 17 minutes before lunch was ill-judged and openers Peter Fulton and Hamish Rutherford were unable to survive in seriously trying conditions.
The day wasn't about large, hooping swing; more a case of the ball nibbling about and no batsman ever really looking in. When that's happening, and is allied to a line and a length where the batsmen are committed to play, you've got problems.
As Williamson aptly put it: "It's one of those situations where you know you've probably got a ball with your name on it."
Williamson and Neesham clearly decided after lunch that they were better to attack than try to hang on by their fingertips.
They peeled off a stream of fine shots, nine boundaries coming in 28 balls, before Williamson departed to Mohammed Shami, who took the other four wickets in a good foil role to Sharma.
And so New Zealand were left to wonder, what if. McCullum has now lost his last eight international tosses - or to put it more accurately, visiting captains have called correctly each time. This was one among the more critical.
Maybe New Zealand should send someone else out to toss, Williamson was asked.
"Honestly that's not a bad idea. Geez, that would have been a nice one to win. Not winning a toss the whole series is just ridiculous."
New Zealand bowlers Southee and Trent Boult snared a wicket apiece, but Shikhar Dhawan, the lively lefthand opener, got away and had reached 71.
There were plenty of plays and misses and appeals and that's why New Zealand know they're still right in the game if they can make the most of the first session today.