Apart from those first up, teams will be watching and learning right up to kick-off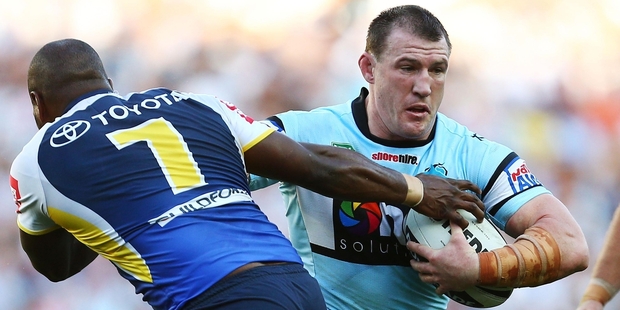 Listening to the captains at yesterday's Auckland Nines breakfast, you could have been forgiven for thinking they had signed up for the latest Star Trek mission as they talked about "heading into the unknown" but there will definitely be a steep learning curve when the two-day tournament kicks off today.
A top-level nines event hasn't been played since 1997, when New Zealand won the Super League World Nines, and the Rugby League World Sevens was dropped in 2004.
People have their theories about what sort of player it will suit and what gameplan will work but few of the coaches, let alone players, have much experience of competitive small-sided games.
It means today's first game between the Sharks and Knights will be significant and, even if much of the crowd hasn't assembled at Eden Park by kickoff at 12.30pm, most of the 16 competing teams will be more than just interested spectators.
"We are going to watch the first couple of games," Manly captain Daly Cherry-Evans said. "We have the luxury of doing that. We will try to pick up a few tactics. It's the unknown but I am looking forward to playing it as it unfolds."
It's hard on the Sharks and Knights but someone had to go first. Rivals will probably look at what doesn't work as much as what does.
"We have no idea," Sharks captain Paul Gallen said, perhaps a little disingenuously. "We are just going to go out there and have a go.
"The biggest thing is ball control. You don't want to be dropping the ball and handing it over and giving them cheap possession. The fundamentals of rugby league will still be there.
"Other teams have said they can't wait to watch us play but we don't have the luxury of that."
The Rabbitohs and Dragons will have the biggest advantage, with the two teams not due to play their first game until 3.40pm, and Souths coach Michael Maguire said he intended to use that time wisely.
The biggest thing will be around defensive structures, and particularly the use and positioning of a fullback.
"I'm interested to see whether or not they are playing with a fullback or how they are going to defend," Maguire said. "Having less players thins up that front line so you are looking to see if you have the fullback in the front line or put one back and the two wingers have to swing sideways to cover for those kicks. It opens up a lot of kicking options when you don't have that person down the back.
"I think it's defence more than anything people will be looking at.
"It will come down to how well teams and players adapt to what is happening."
The Rabbitohs lack many of their biggest names, including Greg Inglis, Sam Burgess and Issac Luke, prompting the bookies to install them as one of the also-rans.
But there are likely to be several relatively unknown players who make a big impact at the tournament.
The likes of Bulldogs prop Lloyd Perrett (brother of Bulldogs winger Sam), Penrith centre George Jennings (Australian centre Michael's brother), Souths fullback Alex Johnson and Warriors halfback Tuimoala Lolohea have been identified as ones who could make a name for themselves.
The Warriors go in as favourites and start against an under-strength Raiders at 2.25pm. With 6000 travelling Australian fans and 18,000 from outside Auckland, Eden Park won't necessarily feel like their home venue. Given their record at the ground, that might not be a bad thing.
Schedule of games
Pools and draw
Yellow pool: Warriors, Raiders, Sea Eagles, Cowboys
Green pool: Roosters, Eels, Broncos, Bulldogs
Blue pool: Sharks, Knights, Wests Tigers, Titans
Red pool: Storm, Panthers, Rabbitohs, Dragons
Day 1 - Today
12.35pm: Sharks v Knights
1pm: Tigers v Titans
1.25pm: Roosters v Eels
1.50pm: Broncos v Bulldogs
2.25pm: Warriors v Raiders
2.50pm: Sea Eagles v Cowboys
3.15pm: Storm v Panthers
3.40pm: Rabbitohs v Dragons
4.20pm: Sharks v Tigers
4.45pm: Knights v Titans
5.10pm: Roosters v Broncos
5.35pm: Eels v Bulldogs
6.10pm: Warriors v Sea Eagles
6.35pm: Raiders v Cowboys
7pm: Storm v Rabbitohs
7.25pm: Panthers v Dragons
Day 2 - Tomorrow
Noon: Sharks v Titans
12.25pm: Knights v Tigers
12.50pm: Roosters v Bulldogs
1.15pm: Eels v Broncos
1.45pm: Warriors v Cowboys
2.10pm: Raiders v Sea Eagles
2.35pm: Storm v Dragons
3pm: Panthers v Rabbitohs
Quarter-finals
3.30pm: Blue 1 v Green 2
3.55pm: Green 1 v Blue 2
4.20pm: Yellow 1 v Red 2
4.45pm: Red 1 v Yellow 2
Semifinals
5.45pm: Winner QF1 v Winner QF2
6.10pm: Winner QF3 v Winner QF4
Final
7.30pm: Winner SF1 v Winner SF2
- APNZ