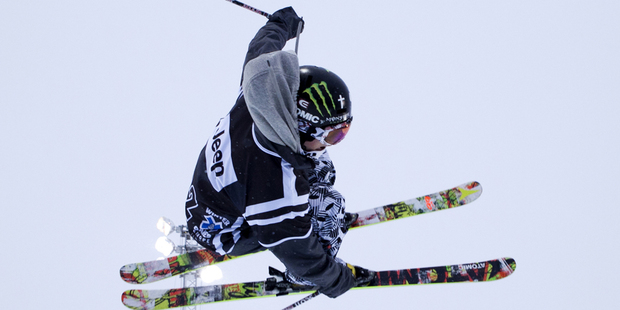 With Jossi Wells' medal hopes dashed in seconds, the freeskier made a decision common in his sport but one which bemused many new fans back home.
The 23-year-old, New Zealand's best chance of ending a 22-year medal drought at the Winter Olympics, finished 11th in the slopestyle final in Sochi last night (Thu).
Wells qualified 10th for the 12-man final and, after an early slip-up in his first run, he needed to produce something special on his second to make his way into medal contention.
Instead, Wells caught a ski on the early rail section and opted to coast for the rest of the course, declining to exhibit any of the spectacular jumps he produced in qualifying.
Wells waving the white flag confounded many Kiwi supporters staying up late to cheer on an athlete who rarely finds himself in such a spotlight in his home country. But, as Snow Sport NZ park and pipe coach Tom Willmott explained, Wells' approach was nothing out of the norm.
"Jossi was going for all out for the win today,'' Willmott said. "He had it in him, and nothing short of perfection was required.
"When he sketched on the first rail, unfortunately it was all over. Jossi's approach to getting down the mountain after that was the approach most top-level freeskiers would take.
"Like a ski-racer missing a gate, once a rider has missed a key trick and won't get the points they need, the game is over. They then have to get themselves down the mountain in one piece.''
Even if Wells had managed a perfect run it still may have been insufficient to win a medal, with the American trio who swept the podium places a step above the rest of the competition.
"The level of the riding was really high,'' Wells said. "Unfortunately I didn't pull through in finals and messed up both runs, which was definitely very disappointing.
"It was such an amazing feeling being at the top at the finals knowing that the whole country was rooting for me. Having them supporting me, I've never really had that feeling before.''
Wells will be sure to receive more support when he competes in the halfpipe on Wednesday, along with brothers Byron and Beau-James, who finished 21st in the slopestyle.
Elsewhere, skeleton race Ben Sandford began his third Olympics campaign early tomorrow morning (NZT). After finishing 11th in Vancouver in 2010, Sandford got his first look at the Sanki Sliding Centre in the Caucasus Mountains, with his final two runs set for Sunday morning.
Katharine Eustace will wrap her skeleton campaign tomorrow morning and, after sitting in 14th place following her first two runs last night, she is eyeing a place in the top 10.
- APNZ