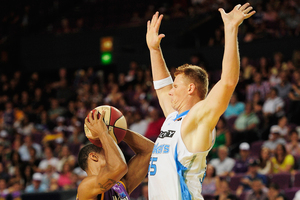 Whatever happens across the Breakers' remaining eight games, the return of Gary Wilkinson must be considered a success story.
Wilkinson will again be front and centre when the Breakers welcome Cairns to Vector Arena tonight, knowing defeat would almost certainly spell the end to their season.
Their title defence might already be dead were it not for the recruitment of Wilkinson.
The former fan favourite rejoined the club in October, replacing an ineffective Darnell Lazare in the import spot and slowly but surely working himself into his form of old.
Now starting in place of the injured Alex Pledger, the American currently leads the Breakers with 15.4 points per game as his readjustment to the Australian NBL culminated in twin 30-point games in Sydney.
While the second of those failed to prevent his side from slipping to a crucial loss, Wilkinson's performance was a throwback to his first two championship-winning campaigns at the club.
The shots were falling, the arms were raised and the hostility rained down from the opposition fans.
That's just the way Wilkinson likes it, and the result produced a vivid reminder of his value.
"Everything was clicking and I felt like every shot that went up was going in," he said. "I like the energy - playing in full arenas, playing in front of people who are fully engaged in the game.
"Whether you're making the crowd quiet or making the crowd upset, it's fun and that's what basketball's all about."
The fun quickly faded for the Breakers and defeat left them requiring favours from the rest of the competition if they are to slip past Sydney for fourth spot.
While the Kings' comeback began on the back of a technical foul called on Wilkinson for talking trash, the big man wasn't about to adjust his approach.
"If I could go back, would I yell in a guy's face? Probably not. But I'm not going to apologise for being who I am ... I think it's helped me win more basketball games than it's ever made me lose."
Another loss would just about bring down the curtains on the Breakers' (8-12) campaign. In fact, the champs could win their remaining eight games and still be edged by Sydney (10-9).
But Wilkinson remained steadfast in his belief that the Breakers controlled their own fate, provided tonight's clash with Cairns (9-13) is the catalyst for a prolonged winning streak.
"We have our destiny in our hands in the sense that we can win basketball games and, if we do, that's all we can do," he said.
"I'm not focusing on the ladder right now. My concern is just helping this team be the best that it can be."
- APNZ