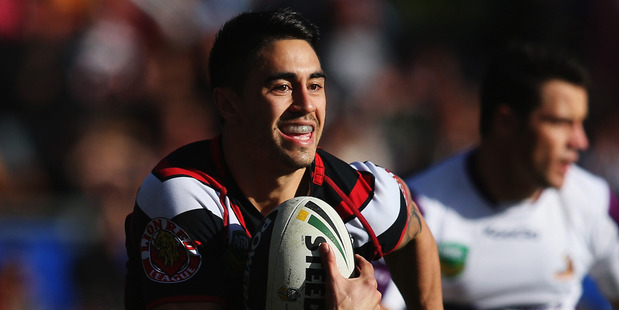 The Warriors' Nines team have received a boost ahead of the tournament (or increased pressure), with two Australian league legends installing them as favourites to take the inaugural title this weekend.
Andrew Johns and Gorden Tallis admit they don't know what to expect at Eden Park but are adamant that the home side will be right in the mix come finals day on Sunday.
"No one is really sure how it will unfold but I'm not sure how you can go past the Warriors in this format," Johns told the New Zealand Herald. "They will be really up for it in front of a sell out-stadium and with Shaun [Johnson], Kevin [Locke] and [Sam] Tomkins, they have got pace to burn. Their big men are always hard to wrap up as well - the format will suit the typical New Zealand style."
"You have to go for the home side," says Tallis, when asked to tip a likely winner. "They will be extremely hard to beat."
Johns, honoured as the eighth league Immortal last year, expects to see several different strategies as the weekend progresses.
"Different teams will take different approaches. Some will be going sideline to sideline, all-out attack. Other sides might play more of a structured game and also back their defence to win them games. There will be a lot of learning across the tournament - it's all so new."
Johns never had the chance to play Nines but is unequivocal about the strategy he would have employed.
"I would have loved to have played. From my point of view, it would have been all-out attack - fast, non-stop and direct."
Johns played in the World League Sevens, a pre-season tournament in the 1990s and early 2000s that featured clubs as well as international teams.
"That was great - there was so much space and no dead time," says Johns. "There was a lot of room for sidestepping, dummies, doing anything you want. It was a good concept but Nines will be even better; I think it is just the right number, allowing a balance between structure and space and it will look more like league."
Tallis also sees a bright future for the format: "They are on to a winner. [Rugby] Sevens has basically turned into a glorified game of touch. This is much closer to the real thing. You will have a chance to defend your mistakes - it's not just about holding on the ball and you will automatically score."
Tallis has some experience of the Nines format, having played in SuperLeague's World Nines tournament in 1997, in an Australian team that also featured Allan Langer, Steve Renouf and Andrew Ettingshausen. New Zealand won that event, toppling Australia in the semifinal and Samoa in the final.
"We got beaten by a better side," recalls Tallis. "It was fun but a hard game to play. What I remember is that it was very easy to look ordinary, even for the great players; there was nowhere to hide. Offloads were a major factor - they were almost impossible to defend."
Johns and Tallis will also line up in a transtasman charity game of touch football, to be played before the Nines final on Sunday evening. The Australian team features Johns, Tallis, Danny Buderus, Brett Finch and Steve Turner, while the Kiwis have Stacey Jones, Monty Betham, Wairangi Koopu and Richie Barnett. Both sides are bolstered by print, radio and television journalists.
"Stacey is one of the best players I have ever played against," says Johns. "He was a constant throughout my career so it will be good to face him again. But I'm a bit of a crock these days so I will be doing a lot of passing. I just hope the Kiwi boys don't get too excited and start tackling."
"I've done no preparation whatsover," laughs Tallis, "and I doubt there will be much done in the Tallis household this week. My plan won't be too complex; I'll just be running off Andrew Johns."