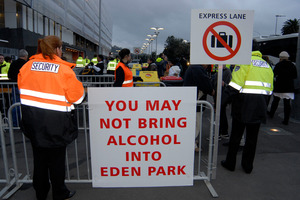 Some Auckland residents are concerned that more than 90,000 possibly alcohol-fuelled fans could converge on Eden Park for the NRL Nines this weekend.
Event organisers and police have tried to allay fears following the the chaotic scenes at the Wellington Sevens last weekend, and have put a comprehensive alcohol-management plan and extra security in place.
But Eden Park Neighbours' Association president Mark Donnelly said there had never before been an event like this at the stadium, and residents were apprehensive about what could transpire.
"We haven't had two solid eight hour days back-to-back before. And from what we're picking up, it's not going to be the family-oriented sort of event that was originally pitched. We're now hearing about more a Wellington Sevens-style dress-up party. We really don't know what it's going to be like,'' he said.
"It's not an All Blacks test where you've got an hour and a half where ...
it's more about the game. These sort of events can be much more party-based, which is the unknown element.''
Mr Donnelly said event staff would be able to manage alcohol consumption in the ground, but there was nothing stopping punters pre-loading at liquor stores and bars.
``Obviously it's in the middle of a residential area and there's a lot of side streets and places where people aren't visible to police or security,'' he said.
"For eight hours solid, residents are going to be trying to get on with their days - taking kids to and from sport and things - and if it's a crowd that might be aggressive they're not going to want to drive past.''
NRL Nines promotor Dean Lonergan previously told the Herald locals had nothing to fear.
"We are very mindful of the Eden Park ratepayers and very mindful of the surrounding areas,'' Mr Lonergan said.
''... We will do what is appropriate to make sure that everyone who comes in here has a really good time and doesn't have to put up with drunk people.
"It is not in anyone's interest to have drunk people floating around and we'll be doing our utmost to make sure that doesn't happen.''
- APNZ