Penalty may be light but Ryder, Bracewell face a long wait to resurrect test careers.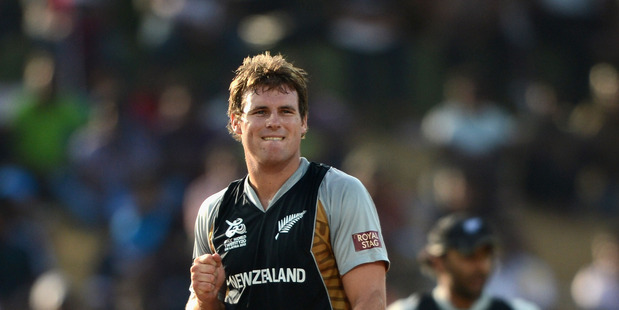 The punishment meted out to Jesse Ryder and Doug Bracewell doesn't sound much.
A fine of undisclosed size, no suspension. Slap-on-the-wrist stuff.
However, the real penalty is not what's been written down; it is in the standing the pair are now held by their teammates, the national selectors and New Zealand Cricket.
Suffice to say it'll be a long time before they're seen in a black cap again after their drunken night out hours before the start of the first test against India last week.
NZC were unable to rip up their contracts. That was not an option once it was determined Ryder and Bracewell's offending came under the "ordinary" misconduct category, as opposed to "serious".
They received the maximum fine allowable under those terms.
Bracewell has been on the outer of the national XI since the tour to Bangladesh in October, unable to win his seam bowling spot back from the triumvirate of Neil Wagner, Tim Southee and Trent Boult.
The foot he broke early last Thursday morning will rule him out of cricket for a time anyway.
Ryder would have been certain of selection in the world T20 squad to be named this Sunday. Theoretically he still could be named, but he won't.
Neither player will be considered for selection until they have shown they know how to prepare properly for an international match. Trust has to be won back, and that can't be done in four days.
NZC head of cricket operations Lindsay Crocker yesterday said there have been drink-related incidents in the past, but invariably involving post-match activity. They tended to be of a celebratory nature.
"This is a different can of beans. This is before the game and is at a whole different level of disrespect for what the team is trying to achieve," he said. "That strikes at the area of trust and that needs to be rebuilt."
How Ryder and Bracewell do that is hard to quantify.
But it's not just about taking wickets or scoring runs. Ryder made 100 and 0 for Otago against Central Districts in their latest Plunket Shield game - the ton before the news of the late-night nonsense, the duck after it.
He could score centuries, double centuries, in each of Otago's last two shield games this season and it wouldn't matter a jot in the overall context.
The pair need to demonstrate a greater sense of understanding what goes with the territory, and a maturity as yet unseen in either.
As Crocker put it: "They need to demonstrate intent to want to change and modify their behaviour. There's a lot of damage to be repaired."
NZC would not tell selectors Mike Hesson and Bruce Edgar when they were allowed to pick the pair again. That would effectively constitute a ban which NZC are not allowed to impose. They're also likely to leave the players' provinces - Otago (Ryder) and Central Districts (Bracewell) - to make their own choices about recontracting them for next season.
If the provinces felt confident about their behaviour within their environment that's their choice. One level up will be a far different story.
Both are gifted players. You don't hit a double century against India, or take nine wickets for 60 to win a test in Australia and be a mug.
Bracewell is 23, Ryder 29. How badly do the pair want to be part of the national team again and have they have the mental wherewithal to prove it?
Right now this team doesn't need them. Teammates were "astonished" at their pre-test night out, Crocker said. That was before anger set in.
There's a group of players committed to improvement who are on a terrific roll against one of the world's strongest teams. New Zealand won't always get it right on the park, but at least the players who are there are giving themselves every chance.