Elusive Tomkins spent last weekend watching the sevens in a bid to pick up some ideas.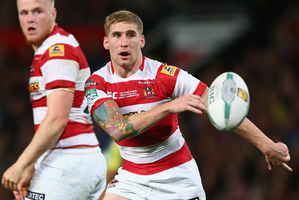 For someone who has only ever been contracted to two clubs, it will seem strange for Sam Tomkins not to be playing when they meet in Hamilton tonight.
Tomkins joined Wigan in 2007 as a 16-year-old and went on to play 151 games for the famous club. He's since joined the Warriors on a three-year deal but won't suit up against his former teammates because he is playing in this weekend's Auckland Nines.
For the first time in his career, he wants Wigan to lose but winning is almost secondary for both clubs. Wigan landed in Auckland on Monday and are using the game as preparation for next weekend's World Club Challenge against the Roosters in Sydney, and the Warriors are in a unique phase when one eye is on the upcoming NRL season and the other on the nines.
None of the players in the nines squad will feature against Wigan and just nine players with first-grade experience will play against the UK Super League champions.
"I caught up with them as soon as they arrived at the hotel yesterday and they were all in good shape and good spirits," Tomkins said. "It seems strange seeing them and not being with them but I'm excited for them to be here.
"It would have been nice to line up against them and play against my brother but I'm not overly fussed about it. It might be a good thing - a few of them might want to get hold of me and give me a knock around."
The first chance anyone will have to do that will be at Eden Park this weekend. It will also be the first chance most fans in this country will have to see Tomkins live and there are many who are bound to formulate an opinion based on what they see in the nines.
It's a game that's likely to suit him, given his pace and elusiveness, and the 24-year-old fullback spent last weekend trying to pick up tips by watching the Wellington sevens rugby tournament. "There are less defenders and more space and all backs would like that," he said. "Hopefully that will suit my game. We get to watch a couple of games before we play so we will get a chance to see how other teams approach it.
"I have always watched the sevens, I think it's brilliant. But it's different. They have rucks and mauls and unlimited tackles so I think it will be a case of working it out on the day."
The Warriors have assembled a decent squad for the nines, with Tomkins joined by the likes of halfback Shaun Johnson, centre Konrad Hurrell and fellow new recruit Jayson Bukuya, and have been installed as favourites even though they are missing a number of players who could have excelled in nines.
nzherald.co.nz
for live updates of the Nines this weekend, go to nzherald.co.nz/sport.
- APNZ