Commitment of Boult, Southee and Wagner over the past year paidoff with some quality numbers in the first.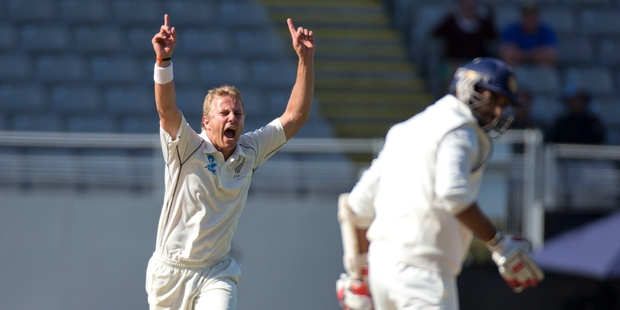 New Zealand have been fortunate in their seam bowling groups since Richard Hadlee was leading the way in the 1980s.
He had Ewen Chatfield, Lance Cairns and Martin Snedden for company through that decade.
Danny Morrison, Chris Cairns, Shane Bond, Dion Nash, Simon Doull and Chris Martin, in various combinations, were highly capable international operators.
Tim Southee, Trent Boult and Neil Wagner have a look about them that suggests they are well down the road to becoming one of New Zealand's better seam groups.
Their numbers since playing the past four tests together are impressive. Each has had a turn or two in the spotlight; but the collective is the key.
In taking all 20 wickets against India at Eden Park in the 40-run first test win, they rammed home their influence on the current setup. Wagner had a test to savour, with eight for 126; while Southee and Boult snagged six apiece.
Bond, now New Zealand's bowling coach, is rapt at what he's seeing.
Southee and Boult have tended to garner more headlines than the bustling Otago left armer Wagner. But on Sunday, as he charged in during a hostile 10-over spell on a warm afternoon when the test was in the balance, he was outstanding.
Seldom can a spell of 10-3-26-2 by a New Zealand bowler have had an impact so far outweighing the bare numbers. He removed Virat Kohli when the Indian champion was sailing along on 67, then produced a snorting lifter to remove centurymaker Shikhar Dhawan to turn the contest at a point where India were in cruise mode.
"Tim and Trent have been talked about, and rightly so because their performances over the last year have been brilliant," Bond said. "But since we've gone to a three seamer, one spinner group, it was important we had someone who could complement the other two guys in terms of volume and the intensity they bring.
"That's where Neil has taken his chance. In terms of averages, he's higher than the other guys but over the last year he's broken partnerships and got big players out at key times for us."
Bond felt outswinger Southee was outstanding at Eden Park and while Boult has had better tests, collectively the important thing was "they got the job done".
"Tim bowled brilliantly through the whole test and has bowled so well for a long time. To be fair he could have had more in this test."
Bond likes their work ethic. They all have that "one more over" approach; that is, a willingness to keep bounding in. Wagner is the most visibly enthusiastic in that regard. He walks briskly back to his mark, charges hard to the crease, and through it. "Neil brings intensity and aggression and I think there's a respect among the group for what each brings."
New Zealand went 10 tests without a win last year. Now three on the bounce have been won, in large part due to the work of this trio.
"We had chances on offer last year and hadn't quite got over the line.
"This summer we're getting the opportunities to do that and getting the wickets, which is great."
Plans are being devised, such as exploiting an Indian perceived weakness against the shorter-pitched ball and bowlers are having a conviction that the way they're going about their business is the right course.
"We have made a concerted effort to be more hostile and as a group we're consistently bowling more bouncers.
"The thing is you have to back your plan and we've stuck to it when the pressure has come on.
"Yesterday they hung in when partnerships were going. It gives the guys confidence that they know they're doing the right thing.
"It's not always going to happen but it shows that if you can be consistent, stick to the plans, hang in, we'll get results."
Glorious, gripping Sunday being a prime case in point.
Boult and Southee have risen to seventh and 10th respectively on the ICC test rankings list. Batsmen Kane Williamson and Brendon McCullum are up to 19th and 20th respectively.
By the numbers
Overall:
Trent Boult, 24
21 tests, 78 wickets at 26.08
Tim Southee, 25
30 tests, 107 wickets at 30.79
Neil Wagner, 27
13 tests, 47 wickets at 34.17
* In the past four tests, the pair have taken 66 out of 80 opposition wickets
* Boult has taken 26 of them, at 16.6 apiece; Southee 24 at 18.5; and Wagner 16 at 30.6.