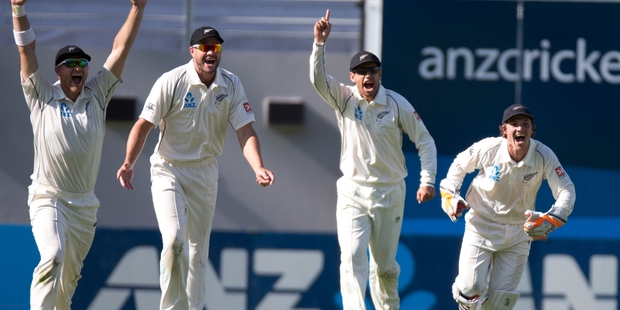 How's this for a neat piece of symmetry; BJ Watling's first test was the occasion of Brendon McCullum's record-setting nine dismissals in a match five years ago.
It was against Pakistan in Napier. Watling was opening on debut and had a chance to push New Zealand to a victory, at 60 not out chasing a modest target, when rain ended the test.
Now, Watling has joined skipper McCullum, after his nine catches in the first test win over India at Eden Park on Sunday.
What's more, his six second innings catches are a first for a wicketkeeper in the fourth innings of a test.
Watling's not a stats guy. He appreciates them but doesn't read much into them, and certainly doesn't pore over his record charts.
"I guess you find out stuff after a game," he said. "A few of the lads did say it [fourth innings] was a first."
Take out the low sprawl to his right to catch Virat Kohli off industrious Neil Wagner and most of Watling's takes were fairly routine. His catch to dismiss last man Ishant Sharma would have been a special thrill.
Unlike batsmen or bowlers, wicketkeepers can't set out to establish records. Chances come, set up by bowlers, and their job is to finish it.
"To be fair, our bowlers are doing a hell of a job to create chances and get the nicks. Your job is just to catch them," he said. "If I'm not, then I'm not doing my job. But it's all reliant on the bowlers."
Having a three-pronged seam attack in the form Tim Southee, Trent Boult and Neil Wagner are in means Watling is always in the game, even more so than he would normally be as the leader of the fielding group.
He's had the job permanently since the start of last year - apart from one test in England in May when he was injured - and is growing in confidence.
His past two tests have produced 17 dismissals. He's taken 48 catches as a keeper in 13 tests behind the stumps.
There's been a batting bonus, too, from his keeping. His overall test average is 33.37; as wicketkeeper he's up to an impressive 41.76.
One reason is that when he wasn't keeping, Watling was going in first, or, certainly, higher up in the order. The keeping role means he's about No 7, when the ball is older, the bowling perhaps less immediately challenging.
He has been working on his footwork, which he believes has helped his glovework. "I've been doing a lot of work getting my feet into good positions and get a base from where I can move my feet well."
Just as Ian Smith relished the view when keeping to Richard Hadlee in his pomp, so Watling has the best seat in the house, given the form of the three seamers.
"All three of them bowled really well," he said of the Eden Park test.
"The ball didn't swing as much as we'd probably hoped but they hit great areas, asked a lot of questions and all just went about their business in different ways."
For example, when left-armer Wagner went around the wicket, "he peppered the right handers and they seemed to struggle with that angle. He just kept coming in".
Luke Ronchi seems established as the short-form first choice keeper. However, Watling is secure in the test job, not that he's dwelling much on competition.
"I'm not really looking at that too much. I've got to control what I can and do the best job I can behind the stumps and keep scoring runs.
"Obviously it was disappointing not to get any runs in that test [1 and a 97-minute grind for 11 when the batting had fallen apart], but, hopefully, I'll go to the Basin and find a bit of form and make a decent contribution in the middle order."
Keeping up
Most dismissals in a test by a New Zealand wicketkeeper
9: Brendon McCullum (8 catches, 1 stumping) v Pakistan, Napier, 2009
9: BJ Watling (9 catches) v India, Eden Park, 2014.
8: Ian Smith (8 catches) v Sri Lanka, Hamilton, 1991.
8: Warren Lees (8 catches) v Sri Lanka, Wellington, 1983.