Skipper McCullum pays tribute to character shown after thrilling 40-run win sees team go 1-0 in test series.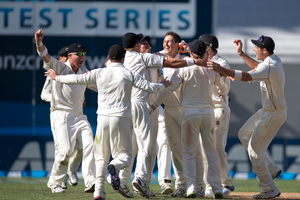 'I'm pretty shattered to be honest."
Brendon McCullum looked it too, but call it a happy shattered, after New Zealand pulled off a thrilling 40-run win over India in the opening test at Eden Park yesterday.
It continued the hold they've had on the world No 2 test nation since they arrived in New Zealand and lost the ODI series 4-0, and it moves New Zealand up to seventh on the test rankings.
That mightn't sound much, but is a step in the right direction, on the back of a third successive test victory, having beaten the West Indies 2-0 before Christmas, for a side who struggled through a grim, winless 10-test period last year. The smiles are back, the self belief is growing and the fighting qualities are intact.
"It was a gripping test," man of the match McCullum said. "Whilst we didn't ram home the advantage in the second innings with the bat, I thought we showed a lot of heart and character today to continue to bash away, keep fighting hard and get the result. I'm immensely proud of all the boys."
India started the fourth day at 87 for one, chasing 407. Only four times in history has a side scored over 400 to win a test. The odds were heavily against the visitors, but they gave it a real crack. Fortunes swung through the day. When centurymaker Shikhar Dhawan and Virat Kohli were in full flight they made batting look easy and the target achievable in just a matter of time.
But Kohli, so gifted but prone to moments of rashness, played a poor stroke to give wicketkeeper BJ Watling one of his six catches in the innings, on 67.
Dhawan, having completed his second test hundred, fell to a Neil Wagner snorter and New Zealand lucked in when Ajinkya Rahane was given lbw by umpire Steve Davis off an inside edge, off the first delivery with the second new ball just before tea.
When Rohit Sharma departed the first ball after the restart, New Zealand could see an opening. But M.S. Dhoni and Ravi Jadeja caught them off guard with a roaring stand of 54 in 34 balls.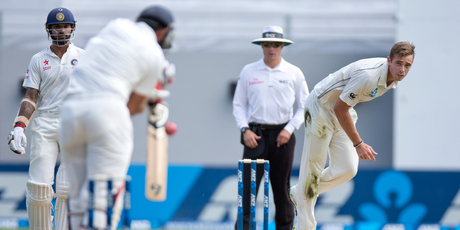 If Jadeja's dismissal, holing out to mid-on, was vital, Dhoni's was the clincher, playing a pull shot onto his stumps, dislodging a bail.
On such small margins tests swing. Last March England wicketkeeper Matt Prior played a ball onto his stumps. The bails wobbled but stayed put. Prior finished unbeaten with a century and their last pair hung on.
"It was a matter of working out the ebbs and flows, when to push, when to pull, obviously attack at times, defend at others," McCullum said.
He reserved special praise for sparky left-armer Wagner, whose wholehearted display was crucial. He was rewarded with eight wickets in the match, his best test return. Trent Boult got the final wicket and split the other 12 wickets in the match with the third seamer, Tim Southee.
Dhoni was magnanimous last night, acknowledging the quality of the contest.
"You want test cricket to be really exciting because that's what draws fans into the arena," he said. "It was a perfect script for that. It was a fantastic test."
After all the debate over McCullum's decision not to send India back in a second time on Saturday, in the end persistence and a refusal to lie down when the game seemed to be slipping, produced the ultimate reward.
How sweet it is
New Zealand's win was their 10th against India in 53 test clashes, and their third test win in succession, including the last two against the West Indies.
Wicketkeeper BJ Watling's nine catches are a record by a New Zealander in a test, and equal the nine dismissals by Brendon McCullum, who had one stumping, against Pakistan at Napier in 2009.
The three seamers, Tim Southee, Trent Boult and Neil Wagner, shared all 20 Indian wickets - Wagner taking eight, the others six apiece.
The second test starts in Wellington on Friday.