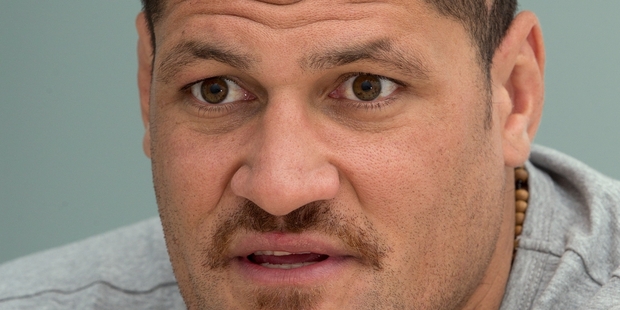 They might not be the players that immediately spring to mind when trying to predict who will be suited to league nines but it would be dangerous to disregard props.
Nines looks ideally suited to fast outside backs, jinking halves and ball-playing second-rowers, but there is less room than in rugby sevens and the drop from 13 to nine players is less significant than 15 to seven.
There are a number of reasons to include props: teams earn a bonus point for scoring under the posts, encouraging them to play up the middle when close to the line; fewer tacklers will be employed on the ball-carrier meaning more opportunity to offload; and a little man will still find it difficult to stop a big, powerful man.
"You can't take the big man out of the game," Rabbitohs halfback Adam Reynolds said. "They can get you quick play-the-balls so we will definitely look to our big men to do some damage."
Souths have a fair few of them, led by the Burgess clan, but what will make them more dangerous is their ability to offload in the tackle.
"In this day and age, the NRL is so structured," said Knights forward Willie Mason, who measures 1.96m and 121kg. "You're not encouraged to offload the ball. If you drop a ball in your half it can be detrimental.
"With this nines tournament, I think you will see a lot of the forwards trying to showcase their skills. We all think we have mad skills ... and we will see at the nines."
New Zealand won the Super League World Nines in both 1996 and '97 with a side with as much power as pace. Alongside the likes of Sean Hoppe, Stacey Jones, Richie Barnett, Marc Ellis and John Kirwan, they also had Joe Vagana, Gavin Hill, Quentin Pongia and Tony Tatupu. They were able to drag in defenders and then offload, creating opportunities for others.
Wests Tigers captain Robbie Farah is one of the few players who took part in the Rugby League World Sevens before it was scrapped in 2004, playing for Lebanon in 2003. He prefers the nines concept over sevens.
"I think the difference between sevens and nines will be pretty big. The extra two players will mean you still have to play some conventional rugby league and there's a bit more room for the big boys in nines.
"The sevens alienated the big guys out of that game because it was more about speed. In the nines, you are still going to have your front-rowers and back-rowers on the edge of the ruck with some offloads. It's going to be an exciting brand of footy but I still think there's a place for the big fellas."
Just four clubs have named their squads so far - the Warriors, Raiders, Knights and Sharks - with the rest required to unveil their 16-man rosters by the end of tomorrow.
The Warriors included two props in Suaia Matagi and Charlie Gubb along with Sebastine Ikahihifo and Sione Lousi, who can alternate between the front and second rows.
The others included two or three props as well but, because nines hasn't been played for so long and rugby league has changed since the Super League days, no one really knows what the best formula will be.
- APNZ