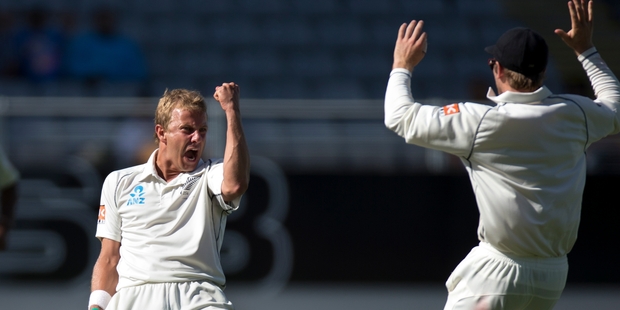 Neil Wagner produced the best performance of his 13-test career to deliver New Zealand a victory which must take pride of place on their test mantelpiece from results over the past year.
Wagner has largely toiled in the shadow of spearheads Tim Southee and Trent Boult. He's the poor chap who strives into the wind without a new ball; he fights the teeth of opposition middle orders but gets few opportunities at tails; and he's sometimes frowned on for statistics which don't boast a sub-30 average as a result.
Wagner has 47 test wickets at 34.17, Southee has 107 wickets at 30.79 and Boult 78 wickets at 26.08.
Traditional statistics tend not to be a first change bowler's friend; they don't necessarily drill into the detail.
Wagner has often been an unsung hero when Southee and Boult received the glory.
In this test, with the balanced figures of four for 64 in the first innings and four for 62 in the second, he took centre stage and belted out an aria.
He has a fist pump and celebration to rival Mick Jagger and yesterday he was a rolling stone through the Indian order. First Wagner eliminated Virat Kohli rather fortuitously, getting him to pull instead of cut a wide one; B-J Watling pouched the result. Next came century-maker Shikhar Dhawan. Wagner bounced him around the wicket; it kissed a glove. Zaheer Khan backed away to deliver an edge to Ross Taylor before Dhoni - the ultimate prize - played on pulling outside off stump.
Wagner seems to have benefited from loyalty shown by coach Mike Hesson and captain Brendon McCullum who observed the 27-year-old since he arrived in Otago during 2008.
He was McCullum's stand-out player from the final day.
"He epitomised everything we want to be known for as a team and did it in clutch moments as well.
"I've been thrilled with how hostile he is with the ball and how big his heart is. He bowled a 10-over spell into the wind late in the day which was no easy feat. It allowed Tim and Trent to have some decent downtime, leading into the use of the second new ball.
"He's bowled like that for us for 12-18 months. He hasn't always got the reward but has been an integral part of our jigsaw. It was nice today for a guy like that to get the accolades."