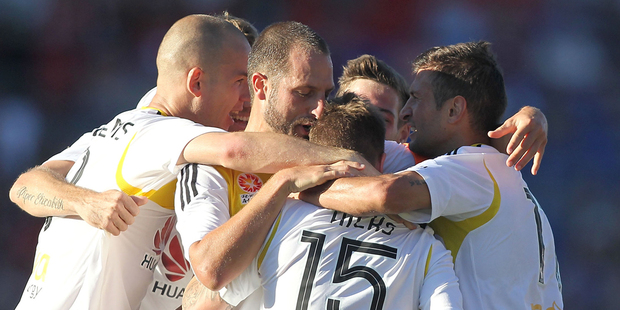 Phoenix 3 Jets 2
It's taken until round 18 but the Wellington Phoenix have finally made their way in to the top six of the A-League.
Following a thrilling 3-2 win over the Newcastle Jets at Hunter Stadium tonight, Wellington jumped from eighth to sixth after the Melbourne Heart beat Perth 2-1.
Midfielder Carlos Hernandez was the major architect for the Phoenix, who were without the attacking Kenny Cunningham and right back Michael Boxall through suspension, while the impressive Albert Riera was unavailable through injury.
The opening spell tonight was a free-flowing affair and the Phoenix had two shots on goal within the first few minutes as the Jets looked like they were asleep.
Playing across the Tasman no longer holds any fears for the Phoenix and after some sustained resistance from Newcastle, Hernandez provided Wellington with the lead in the 21st minute.
After skipping past a Jets defender he hit a well-placed strike to the bottom corner of Mark Birighitti's goal and the Newcastle goalkeeper was left flat-footed.
With Boxall out, Newcastle looked to attack down Wellington's right-hand side and it was down that channel where they scored an equaliser when Craig Goodwin netted his first A-League goal since October, 2012 via powerful left-foot strike.
But the ledger didn't sit square for long when Stein Huysegems, who is having a stellar season, bagged his ninth goal of the summer after he latched on to a beautiful ball from Hernandez in the 33rd minute.
An exuberant Huysegems made a beeline straight for the Phoenix bench to celebrate as Wellington reclaimed a lead they took to the halftime interval.
Goodwin wasn't happy with one though as he added a goal with his right boot when he beat debutant Josh Brindell-South, who had a challenging shift at right back, and then buried his shot past Phoenix goalkeeper Glen Moss.
Drawing level reignited the Jets as they worked their way in to the game and Brindell-South's first Phoenix outing came to an end in the 66th minute after he succumbed to cramp and was replaced by Jason Hicks, which prompted a formation shuffle for Wellington.
At the same time, Jeremy Brockie also entered the fray as he was given a chance to play against the club he made 41 appearances for from 2010-2012.
Going to the bench proved an inspired choice from Phoenix coach Ernie Merrick as Hicks delivered a stunning goal from the top of the box in the 71st minute as Wellington took the lead for the third time in the game and didn't give it up again.
With only a few minutes left, 17-year-old Alex Rufer was also given his Phoenix debut as Merrick's revolution gave another young gun his opportunity at A-League level.
Wellington's next game is against the bottom-placed Melbourne Heart at Westpac Stadium on Sunday.
Wellington Phoenix 3 (Carlos Hernandez 21, Stein Huysegems 33, Jason Hicks 71) Newcastle Jets 2 (Craig Goodwin 26, 46) Halftime: 2-1
- APNZ