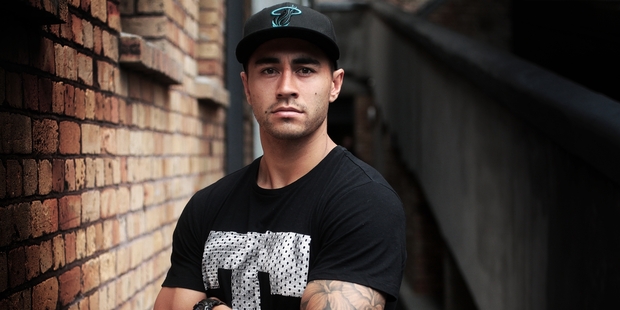 Shaun Johnson thinks the Warriors can win the NRL premiership - and that is why he has signed a new four-year contract with the Auckland team, turning his back on any thoughts of playing in Olympic sevens rugby.
In what he described as "the biggest deal of my life", Johnson has committed his future to the Mt Smart club until the end of the 2017 season. The decision ends months of speculation, with Penrith (in particular) as well as other NRL clubs said to be in pursuit of the electric halfback, who has clocked up 61 NRL appearances and 28 tries since 2011.

"You have to take everything into consideration," Johnson told the Herald on Sunday. "It wasn't just Penrith - there were some other NRL clubs as well as interest from Europe. I thought about it - you have to - but I am happy that it is all sorted now and I am staying at the club. In the end it was a pretty simple decision; I wasn't ready to leave."
From Johnson's point of view, there were two key factors. One was the appeal of staying in the city that he loves and the other was the belief that this Warriors group are on the edge of something special, with a ton of promising youth and some important new signings.
"I'm happy in Auckland," says Johnson. "My family and friends are here and that is a major part of how I perform. And a big part of it now is winning; I want to win a competition and I really think we can do that at the Warriors - it's a special group of players and I am looking forward to seeing what happens."
Johnson, who had a three-week break in Thailand with his partner after the World Cup, says the atmosphere at the club upon his return made the decision easier.
"Seeing how the club was run and the rapport between coaching staff and players - it hasn't been like that since I have been there," says Johnson. "Everyone is genuinely on the same page. We know that not making the finals is just not good enough. We have to pull finger and there is no reason why we can't. It may be putting pressure on ourselves to be thinking that way but if we are not, we are just going to end up like last year and the year before."
The new deal puts paid to any chances of Johnson playing rugby sevens at the 2016 Olympics, after the halfback had previously expressed an interest in being in Rio.
"The Olympic dream was very brief," laughed Johnson, "I learned that straight away. [Sevens] was a sport I loved to watch and it would have been cool but I am very happy with my decision and not thinking twice about it. It would have been a major commitment [to switch to rugby] and there was no chance of that happening; fifteen a side doesn't have the same appeal for me as league does, that's for sure ... and the Olympics thing got blown out of proportion."
On the back of the signing of Sam Tomkins, and the retention of other key figures, Johnson's decision seems a milestone for the club. He is the kind of player to build a team around and, for all his moments of brilliance and progress over the past three seasons, there is a sense the best still hasn't been seen from the 23-year-old.
"He has so much natural ability and is a smart footballer," says Andrew Johns, rated as one of the best halfbacks of all time. "You just need to be patient; halfbacks often peak in their mid- to late-20s and I have no doubt the best is in front of him."
"In his position on the field he has had to direct the team since he has come into grade," says Warriors captain Simon Mannering. "Everybody knows he has a great skill set and he has made great progress in other areas."
Johnson's immediate focus is the Auckland Nines, where he will captain a strong looking Warriors team: "It will be massive. It will be amazing to play in front of that crowd and I'm pretty confident in the playing group that we have; we can do some damage - we have the pace and the attacking players though we need to aim up in defence otherwise we will be in trouble."
The Nines side will have their first training sessions this week (until now the focus has been on trials and the NRL season). It's an abbreviated buildup, but they have the advantage of assistant coach Stacey Jones' Nines pedigree (he was part of the victorious New Zealand sides at the 1996 and 1997 World Nines) as well as Johnson's extensive touch rugby background.
"I am looking forward to implementing some of those old moves and systems with the team," says Johnson. "Hopefully we can get some things going. It should be a great way to start the season."