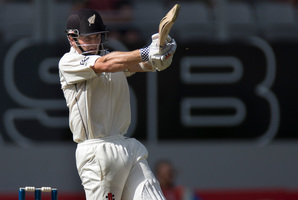 New Zealand batted well yesterday but poor catching or field placement cost India at least 224 runs.
Two catches were put down in the slips by Murali Vijay and Shikhar Dhawan. Another fell short of the cordon off the bowling of Ishant Sharma. A miscued Brendon McCullum sweep lobbed tantalisingly over Dhawan, who had initially advanced at leg slip after a ball from Ravindra Jadeja.
Vijay's spill was the most punitive. It came off Mohammed Shami to century-maker Kane Williamson when he was 32 and the score was 76 for three. The edge travelled at knee height and seamed away from Williamson's defence. Vijay looked set but hard hands saw it crash to the turf.
The New Zealand No 3 made 81 more runs.
"It's nice to have some luck," Williamson said with a grin. "Some say getting caught down the leg side later was bad luck so it's taking the good with the bad."
Dhawan spilled a catch at third slip off Peter Fulton when the opener was on one; he scored 13. Dhawan poached across Rohit Sharma from the first ball of the second over. Given Shami had a plumb lbw to Fulton turned down by umpire Richard Kettleborough less than seven overs later, it makes catching more crucial.
India's bowlers must surely crave the Decision Review System sometimes - behind closed doors - to guarantee wickets by computer.
Captain Mahendra Singh Dhoni might be held responsible for the McCullum miss. It's generally the wicketkeeper's job to set the slip cordon based on his judgment of bounce and carry. The New Zealand captain presented what looked a regulation forward defence to a good length ball from Sharma. It felt well short of Vijay at first slip and went through his legs for four. McCullum was on 12 in the 28th over. He's now unbeaten on 143. There had been indications as early as the 15th over edges were dropping short.
"Obviously you feel bad when catches are dropped off your bowling," Sharma said. "But that's part and parcel of the game.
"You can't control those things [as a bowler]. The only thing you can do is bowl in good areas."
The miss prompted a reader called IndiaBarcelona to rant on Cricinfo: "Can someone tell Dhoni, it's not Brett Lee firing thunderbolts @ 145+, it's Ishant at 125-128 km/h! Why do our slip-fielders stand at least 2 yards [too far] back and so close to each other?"