McCullum and Williamson produce vital partnership for 221 to lift NZ out of trouble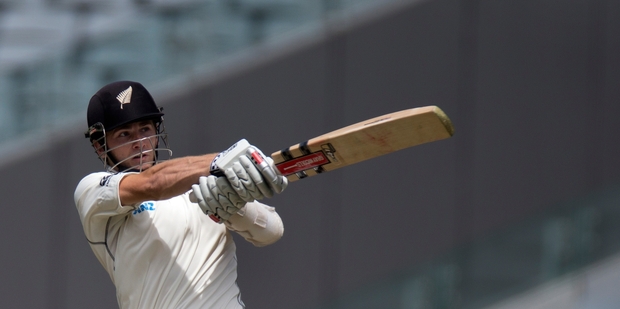 Having been sent in and had their top order swept away, New Zealand scrapped hard and by stumps had decisively won back the honours from India at Eden Park yesterday.
Chalk the balance of the match going into day two up to captain Brendon McCullum and Kane Williamson, whose centuries, and double hundred stand, resurrected a badly sagging innings.
From 30 for three, New Zealand got to 329 for four - and you'd take that any day of the week.
With another session of hard work and thoughtful, assertive batting today they should have laid the platform for New Zealand's seamers to have a decent tilt at India's heavily touted group of batsmen.
It was a fascinating day. Both teams wanted to bowl first and it was obvious why. The ball nipped about, India's seamers were well up for the challenge and found New Zealand's top order ripe for the taking.
Even Ross Taylor, in such princely form of late, was jittery and didn't last.
Cue the skipper and, with Williamson again demonstrating his class, they produced a rousing partnership of 221.
McCullum, who looked understandably drained at stumps, will start today on 143, after batting a tick over five hours; Williamson's 113, which ended in a leg side strangle to veteran seamer Zaheer Khan, made 113, off 172 balls.
In the middle session, the pair rattled on 125 runs, as New Zealand sailed along at six an over for a time.
India's captain MS Dhoni set some interesting fields along the way, looking to both tempt the batsmen with gaps, and lay traps in the deep. His seamers toiled hard, each having his moments, and left arm spinner Ravindra Jadeja went at four an over on a ground whose short straight boundaries make keeping a tight grip on scoring difficult.
The stand was 50 shy of New Zealand's fourth wicket record in tests, by Taylor and Jesse Ryder against the Indians at Napier five years ago.
Williamson, dropped on 32, has now scored five test hundreds before his 24th birthday. That matches New Zealand's best batsman, Martin Crowe, at the same age, so he's in good company.
Williamson is averaging 76 since the October tests against Bangladesh, but try to suggest he may be in the best form of his career and he's reluctant to get categorical.
"There's always things you want to be working on. You don't look too far ahead and label things too much."
McCullum's second ton of the home summer was notable for both his unwillingness to eschew his scoring shots, particularly the hook, for which India tried to tee him up, and his willingness to knuckle down.
Tall Ishant Sharma hit the pitch hard and gave him a hurry up for a time but McCullum's was a richly deserved reward for a chanceless innings which said plenty about his determination to lead by example.
"He batted fantastically," Williamson said last night. "What was more impressive was the 40-odd runs he got after his hundred, which was ruthless."
Corey Anderson has already put on 78 with McCullum and is on 42.
New Zealand will be eyeing 450 as an absolute minimum. They know that on an improving wicket the challenge for the bowlers will be steep.
But this day belonged to two batsmen who displayed courage to keep New Zealand in the contest.