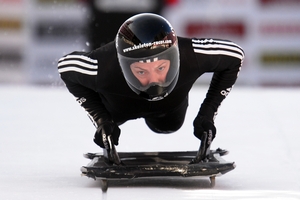 Had she not been blessed with a healthy dose of the give-it-a-go philosophy, Katharine Eustace would never have got to the Winter Olympics.
Go back a step; had she not come to New Zealand for a one-year holiday in 2002, she would not have had the chance to be in Sochi, and certainly not racing the take-your-breath-away skeleton event.
Then again, the 38-year-old former British junior 400m runner, appeals as someone not shy of a challenge.
So it is that New Zealand will, in consecutive Winter Olympics, have representatives in both the men's and women's skeletons. Ben Sandford is preparing for his third event; in 2010, he had Tionette Stoddard for company in Vancouver. Sandford was 11th, Stoddard 14th.
Eustace will take decent form into the Olympics.
A seventh in the most recent World Cup at Konigsee, Germany a week ago, has her eighth on the cup rankings.
In a sport where hundredths of a second can decide placings, she'll go in as one of a group of athletes who can genuinely eye a podium finish.
Eustace was born in Bristol, attended university in Birmingham and works in Wanaka as a physiotherapist.
"I hadn't even heard about the skeleton when I was in the UK," she said.
"But we have a lot of winter sports athletes based in Wanaka. [Former skeleton racer] Louise Corcoran kept coming in for physio. Because I'd done a lot of track and field in Britain, with that sprinting background, someone said 'you should have a go'."
She went on a trip to Canada seven years ago, tried it, loved it and "ever since I've been trying to progress and work my way towards going to the Olympics".
Eustace set goals that, if she couldn't reach, she'd have stopped the sport. But the goals kept getting met.
"I'd been competing only a couple of years before the last Olympics and just missed a spot then. I thought, 'If I can go for four years imagine what I could do with that experience,' so I kept persevering."
She had skied and snowboarded in Wanaka and did a lot of multi-sport adventure racing - she's a four-time contestant in the Coast to Coast - and admits a passion for outdoor pursuits.
So what is it about a sport where the margins for error are slight, where you hurtle down an ice shute at speeds up to 140km/h, that appeals?
Eustace denies it's a need for a speed buzz.
"It's just the fact that when you do it right it feels amazing," she said.
"It feels like flying. It's all about doing it properly and precisely. When you do that it's an awesome feeling and when the results come with it, that feels good.
"And when you're learning quite rapidly you are seeing improvements come quickly. And that feels good."
There has been the odd bad prang along the way. Despite what appears a high degree of danger, those who take part at the highest level will argue the number of injuries are small. "Often what happens when you end up quite high in a corner it finishes and you slam out and hit the opposite wall.
"You're not strapped in and might get knocked off your sled, so you're desperately holding on and trying to drag yourself back on."
The cup circuits vary from a minimum of 1500m to 2500m, and must have three quick turns in succession at some point, including a 180 degree twist.
Eustace will be the oldest racer in the field, but that's no barrier. She regularly finishes in the top dozen, hence her optimism in a sport which is very much about performance on the day. There are four runs and the key is consistency.
Eustace admits in her running days she was not as focused on her sport as she is now. Getting to an Olympics was always a dream.
In her days on the track she had other priorities. Now she has the stability of a home and a job, which helps pay the bills.
Eustace is aiming for "at least" top six, if not pushing for a medal in Sochi.
"I've had top six results before so I know it's a possibility. Races are won by .001s; why shouldn't it be my day?
"You do have to focus on process, making sure I've got my steers right, that I'm pushing well and have a plan for every situation so I'm not surprised by anything."
So Sochi is a one-off chance? Eustace doesn't want to pressure herself that this might be it, medal or bust.
"I haven't really thought past the Olympics. I'm still getting better so why would you stop?"
Seven events not to be missed at the Sochi Winter Olympics
1. Men's downhill, Feb 9, 8pm NZT
If you want to know what downhill is all about, go on YouTube and check out Innsbruck, 1976 and Austrian Franz "The Kaiser" Klammer's heart-stopping, legendary run to Games gold (the 4min 11s version). Once your heart is extracted from your mouth, settle in for the final, perfect timing for New Zealand audiences. A tip? Try Aksel Lund Svindal, the Olympic Super G winner in 2010, winner of eight World Cup downhills, including two last month, and twice world championship downhill winner. Italian Dominik Paris, Canada's Erik Guay, Swiss Patrick Kung and Austrian Hannes Reichelt, who pipped Svindal to gold at Kitzbuhel a few days ago, are others worth a thought.
2. Women's snowboard slopestyle, Feb 9, 7.30pm
A big interest in this for New Zealand, and great timing too. Christy Prior (world No7) will be the best regarded of the four New Zealand contenders and is in prime form. There's also Rebecca Torr (No16), Shelly Gotlieb (No19) and Stefi Luxton (No21). American Jamie Anderson, Sarka Pancochova, from the Czech Republic, and Dutch competitor Cheryl Maas are the world's top-three-ranked riders.
3. Men's ski jump, Feb 16, 6.30am
Just what you need while digesting the bacon and eggs. This was Eddie the Eagle's event. Everyone thought it was hilarious. In fact, officials were livid as it made a joke of qualification criteria and he was hopeless at it. Still, you need a large dose of intestinal fortitude and ice in the veins for this. Slovenia's Peter Prevc leads World Cup standings and has finished first or second in six of the last seven cup races; a 26-year-old Pole, Kamil Stoch, sits second. He leaped 128m at age 12 and has a personal best of 232.5m; and Austrian Gregor Schlierenzauer, ranked third, has won three Olympic medals and should also be pressing hard.
4. Men's skeleton, Feb 16, 3.45am
Fancy being three-time New Zealand Olympian Ben Sandford, lying face down on a sled hurtling through a twisting ice tunnel at somewhere north of 130km/h? This sport is decided by hundredths of a second. Latvian Martins Dukurs, a 29-year-old from Riga, is king of the skeleton. He has won six of eight world cups this season and was second and third in the others. Dukurs was second in the Vancouver Games of 2010, won world championship gold in 2012 and 2013 and has won the last four world cup crowns. So no surprise he'll start warmest of favourites.
5. Men's freeski halfpipe, Feb 19, 2.45am qualifying, 6.30am final
Along with the women's snowboard slopestyle, this is the biggie for New Zealand. The Wells brothers Jossi, Byron and Beau-James, along with Lyndon Sheehan, carry New Zealand's hopes into the pipe. New Zealand are a genuine medal chance here. Americans Aaron Blunck and David Wise seem sure to figure at the business end.
6. Women's free skating final, Feb 21, 4am
Think Norwegian Sonja Henie - friend of Nazi Germany's leader Adolf Hitler, winner of three Olympic golds and 10 world championships - East German Katarina Witt, four-time world champion, twice Olympic gold medallist and Playboy centrefold, and Michelle Kwan, five-time world champ. Then think Tonya Harding and Nancy Kerrigan. It's the glamour event on ice, the world of triple axel, choctaw and camel spin. Who to watch? South Korean Kim Yuna, defending her 2010 gold, is a two-time world champion, as is Japan's Mao Asoda, runner-up in Vancouver, and Italian Caroline Kostner, world No1 two years ago.
7. Men's ice hockey final, Feb 24, 1am
No self-respecting American sports fan will forget the Miracle on Ice, at Lake Placid in 1980, when an American team of amateur and collegiate players beat the mighty Soviet Union's full-strength team in their medal-round game, and went on to win gold by beating Finland. In 1999, Sports Illustrated named the victory its top sports moment of the 20th century. Anyway, Russia, Finland and the Czech Republic are the top three seeds for the Games' closing event. The United States are only seventh.