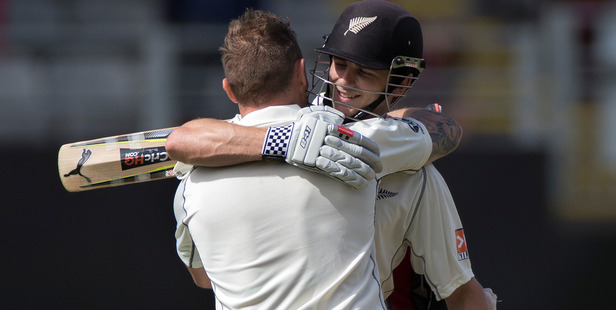 Some fortune always helps in sport, especially at the international level.
It came in several instalments for the New Zealand cricket side today as they took their strong limited overs form into the test series with India.
These days India are a far more athletic group than their predecessors although a couple of their fast bowlers clump rather than shift around the outfield.
But it was their fielding which hurt them badly on the opening day of the first test at Eden Park. Shikhar Dhawan grassed Peter Fulton early though India were still throttling New Zealand at 30-3 after skipper Mahendra Singh Dhoni won the toss and sent the hosts in.
Both Hamish Rutherford and Peter Fulton looked hesitant as they started the innings. Their shot selection did little to dispel thoughts that their test places are under threat and, when Ross Taylor holed out with a drive to mid-off, the prospects were looking dire.
The squeeze was on, the pace bowlers were finding some movement off the pitch and New Zealand were struggling.
Skipper Brendon McCullum's early leg glance fortuitously bisected the keeper and leg gully, another edge fell just short of slip and he looked apprehensive about his timing.
At the other end Kane Williamson was far more composed, his footwork was crisp, his strokes clean and he freed up enough to loft Ravindra Jadeja down the ground before lunch.
By then New Zealand had crawled to 54-3 but the tempo altered markedly when the teams returned. India looked lethargic and Vijay Murali shelled a standard chance at first slip from Williamson.
Opening bowler Mohammed Shami had worked up a brisk pace on a useful line and his dismay was clear when he found the edge of the dangerous Willamson's bat and his teammate failed to clinch the deal.
It was a dreadful and costly miss.
The pitch had lost most of its sting and while there was some uneven bounce, Williamson and McCullum found their tempo and pushed ahead. At the end of the session they had ticked over the tally at more than a run a minute to leave New Zealand at 179-3.
Both claimed their centuries in the last session as New Zealand worked towards increasing their advantage.
Mixed early weather and a shower which delayed the start curtailed crowd numbers on Waitangi Day. It's just as well as the caterers in the ASB Stand failed to cope with those wishing to purchase meals during the lunch interval.
But those who attended the test were treated to more of Williamson's form which has taken him past 50 in all of his six innings against India this summer. The elegant simplicity of his technique is a treat to watch while he also unfurled several thunderous hook and pull shots for six.
McCullum was all hustle. At times he sparred outside off and had an angled defensive bat but his intent was absorbing. He and Williamson led the counter-attack and, by mid-afternoon, New Zealand had gained that advantage as the pair surged towards their centuries.