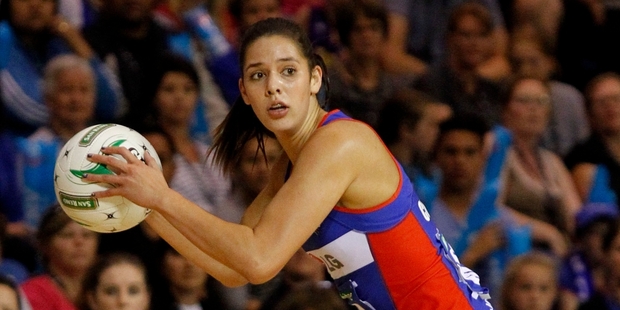 Northern Mystics star Kayla Cullen refuses to give up hope of making the Silver Ferns for the Commonwealth Games as she battles back from a knee reconstruction.
As the Mystics ramp up their preparation for the start of the 2014 ANZ Championship in three weeks, Cullen is still restricted to the stationary bike on the sidelines as she continues her recovery.
The 22-year-old defender this week went for her first run since tearing her ACL on the eve of the World Youth Cup in Glasgow nearly six months ago.
Cullen is still not able to run for long, and only in a straight line, but it is another milestone she can tick off in her aim to get back on court.
The next step will be changing direction while running, then uncontested court work, then she will slowly return to contested play.
"I've pretty much been living on the bike for the past few months so it's very exciting to get to run," said Cullen.
After her World Youth Cup tournament ended before it began, denying Cullen a chance to be part of New Zealand's shock win over Australia, the athletic defender has been hoping to get the chance to return to Glasgow in July with the Silver Ferns.
At best, Cullen won't be back on court for the Mystics until May, giving her only a few weeks to convince the selectors she warrants inclusion in the national team.
"I've never ruled [the Commonwealth Games] out, I've always believed that I can make it back. I think I have to take that attitude because as soon as I give up on it then I'm screwed mentally - I don't want to lose that motivation. It's been a goal I've been aiming towards for so long."
Cullen is not the only Mystics player on the comeback trail, with coach Debbie Fuller having to carefully manage several over the preseason.
Shooter Bailey Mes is further advanced than Cullen in her rehabilitation from a knee reconstruction but still isn't expected to be match-ready for the Mystics' opening game against the Vixens in Melbourne.
Australian import Julie Corletto has also had her training restricted in the preseason as she recovers from a foot injury and knee problems, while her defensive partner Anna Harrison returns from the birth of her son in September.
Harrison heads to Tasmania this weekend for the Mystics' preseason clash against the Vixens. It will be the first time Tasmania has hosted an ANZ Championship fixture, albeit an out-of-competition one.