McCullum: No getting carried away yet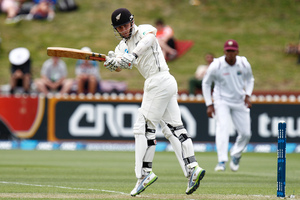 Lest it be suggested New Zealand might be getting a touch cosily confident before today's first test against India, Brendon McCullum yesterday made it emphatically clear they're not.
It would be easy for New Zealand to figure life is pretty good right now, and it is, after a comprehensive 2-0 test series win over a below-strength West Indies, then a 4-0 belting of mighty India in their ODI series.
Still, world No2 India are formidably good and captain McCullum added a sobering rider yesterday to the notion that New Zealand should be mightily encouraged by recent events.
"It's early days for us," he said. "We've picked up some pretty big scalps in one-day cricket in particular in the last 12 months and got some rewards against the West Indies, but no one's getting carried away yet.
"At no stage in the next little while are we going to be good enough to be complacent."
It's solid, feet-on-the-ground talk which won't hurt one bit as New Zealand prepare for one of cricket's tougher challenges against quality opponents who will - or at least certainly should - have been stung by the comprehensive nature of their ODI series loss.
Even so, New Zealand will approach the first test quietly optimistic of a solid performance.
There's Ross Taylor, chasing a fourth successive test century; Kane Williamson coming off five straight half-centuries in the ODI series, averages 68 over his last four tests, and looking poised to take the next step up in a career which promises much.
Indeed, considering cricketers aim to outplay their counterparts - and if enough of your teammates do, usually you win - Williamson against Cheteshwar Pujara and Taylor against Virat Kohli should be among the more intriguing square-offs in the series.
Trent Boult, Tim Southee and Neil Wagner are skilled, resilient types; Ish Sodhi's development is sure to take a couple of giant strides forward in the next fortnight.
"We're very respectful of their line-up," McCullum said. "They're not Tendulkar, Laxman and Dravid [India's fabled middle-order trio, now all retired] but they're outstanding players in their own right."
McCullum revealed an unchanged New Zealand XI for the third straight test and made it clear he'd fancy giving his seamers first dibs on a grassy Eden Park strip.
India's skipper, MS Dhoni, maintained his policy of giving nothing away until the toss.
His most relevant thought was on the speculation that New Zealand will try to soften the Indian batsmen with a surfeit of short-pitched deliveries, to play on a perceived weakness on the pull shot.
It worked well in the ODI series. Test cricket is different, cricket's most commanding leader asserted.
"The plus point in tests is you can always pick and choose when you want to hit it," Dhoni said. Chasing a large ODI total didn't always allow the luxury of time, he added.
Asked if the next two matches were the acid test of the summer, McCullum replied: "Every game is an acid test for us." Even so, whisper it, but New Zealand are starting to look as if they're well up for the challenge.
NZ v India Eden Park, 11am today
New Zealand: Brendon McCullum (c), Peter Fulton, Hamish Rutherford, Kane Williamson, Ross Taylor, Corey Anderson, BJ Watling, Tim Southee, Ish Sodhi, Neil Wagner, Trent Boult.
India: (likely) MS Dhoni (c), Murali Vijay, Shikhar Dhawan, Cheteshwar Pujara, Virat Kohli, Rohit Sharma, Ajinkya Rahane, Ravindra Jadeja, Zaheer Khan, Ishant Sharma, Mohammed Shami.