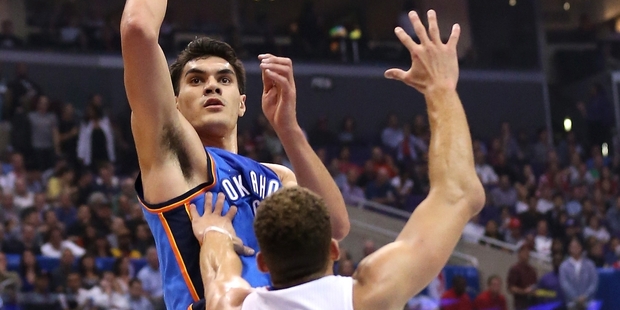 The Tall Blacks were handed one piece of exciting news yesterday by being drawn in the same pool as the USA at this year's world cup in Spain and they hope more will come in the shape of Steven Adams making himself available for the tournament.
New Zealand were drawn in the same pool as the USA, Turkey, Finland, Ukraine and the Dominican Republic to be based in Bilbao and must finish in the top four to progress to the last 16 knockout stages.
Apart from the Americans, who won the last world title in 2010 and will be stacked with top NBA players, there's a belief within the Tall Blacks that they can compete with every other team in their pool and they have avoided some of the other powerhouses of world basketball.
It will be a big boost if Adams plays and signs are promising the Oklahoma City Thunder centre will be available for the two-week tournament that starts on August 30.
The 20-year-old, 2.13m NBA rookie said last year the Thunder wouldn't stand in the way of him representing his country. Basketball New Zealand spokesman Peter Kadar said his organisation had been in touch with both the player and club about their plans.
"[Oklahoma] have been really supportive and he's definitely keen," Kadar said. "We just need to know closer to the time how he's doing in the NBA and whether he can give up six to 10 weeks."
It's unlikely Adams would be able to commit himself to the entire buildup and it will be up to the Tall Blacks' coaching staff of Nenad Vucinic and assistants Paul Henare and Pero Cameron what they would be comfortable with.
"It will just come down to, does Steve want to play for his country?" Henare said. "We will make contact and let him know about preparations.
"I look back at the time [former San Antonio Spurs forward] Sean Marks was available for the Tall Blacks and he missed the so-called in-between years when there weren't major competitions. It might be that we get Steve for world cup and Olympics years. That's a good scenario for us. It gives us time with him but also opens up opportunities for others as well.
"He brings a genuine skill set and physicality that people not just in New Zealand but around the world don't have. He has legitimate size and strength and athletic ability and his defensive presence is an area the Tall Blacks have struggled with in the past. He would relish and benefit from playing top-level competition."
Adams would be part of a side growing in depth and experience. The Tall Blacks finished 12th at the last world cup in Turkey in 2010, when they were knocked out by Russia in the second round, and the likes of Kirk Penney, Mika Vukona, Tom Abercrombie and Alex Pledger should feature again.
"I'm really looking forward to this one with the calibre of players we have," Vukona said. "A lot of young guys who were there or close to making the team in 2010 are now seasoned veterans. With that kind of experience, it goes a long way and is really promising."
Basketball NZ will now look to put together a programme of camps and matches. They were waiting until after the world cup draw and expect invitations to tournaments in Europe and Asia and also hope to play internationals at home. APNZ
- APNZ