India can expect barrage of short bowling from NZ side when the first test starts.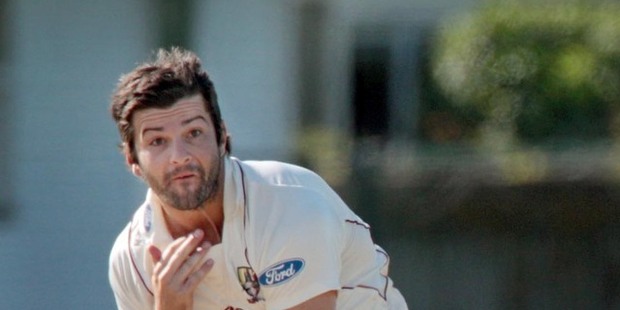 In the unlikely event that India's test cricket batsmen were unsure what to expect in the test series, they got another broad hint in Whangarei yesterday.
The second day of their two-day game against a New Zealand XI was given over to batting practice, and that included a fair dose of shorter-pitched bowling.
The New Zealand XI captain Anton Devcich made it clear how he thinks the national team will approach the task of bowling to India's quality batting line-up.
"The Indian guys have been found out with the short ball a little bit and I think they'll cop more in the test series," Devcich said last night.
"We had a couple of tall bowlers who generated a little more bounce off the wicket.
"We've noticed they've got out a lot pulling and hooking and thought we may as well test them out on that and see if they've done some work on it in the past few days."
He was impressed with what he saw of India's batsmen yesterday, as they made their way to 313 for seven, responding to the New Zealand XI's 262 for nine declared, before declaring to end the match.
All the batsmen spent at least an hour in the middle, acting captain Rohit Sharma made 59, Ajinkya Rahane 60, while Cheteshwar Pujara - test average at a roaring 66 and in Devcich's mind the pick of the batsmen - made 33.
India's batsmen, led by test specialist Pujara and Virat Kohli, ooze class.
Then again, the batting group were expected to take lumps out of New Zealand's bowlers in the ODI series. It happened far less frequently than the doom and gloom merchants had anticipated, which is much to New Zealand's credit.
India were let down in that series too often by their bowlers.
Spinners Ravi Ashwin and Ravi Jadeja - only one of whom is likely to play at Eden Park in the first test starting on Thursday - are class acts with fine records.
However the seamers were unreliable and at times seemed clueless when the heat was applied by New Zealand's batsmen.
Ishant Sharma, so highly regarded a couple of seasons ago, and with 149 wickets from 53 tests, is erratic and seems to have misplaced his pace and hostility. His 10 no-balls at Whangarei on Sunday also raised another concern.
The veteran Zaheer Khan, 35, is one of five players who have arrived for the tests. His record of 302 wickets at 32.6 from 90 tests is impressive. He'll be expected to provide stability and control, assuming he's selected.
And there's the rub. Most of the bowlers had a decent workout against the New Zealand XI, but how they perm, most likely, three seamers from the six India have in their squad of 17 will be intriguing.
The three used in both South African tests before India came to New Zealand were Zaheer, lively Mohammed Shami - 17 wickets in his four tests at 26 - and Sharma. They have the returning, and pacy, Umesh Yadav, uncapped Ishwar Pandey and ODI swingman Bhuneshwar Kumar as options.
The fact neither captain MS Dhoni, nor his deputy Kohli bothered to go to Whangarei suggests that, as two of the three tour selectors, they know their minds already.
The six batsmen appear to pick themselves - Murali Vijay, Shikhar Dhawan, Pujara, Kohli, Rohit Sharma and Rahane - with Dhoni and four bowlers to follow.
Unless there are genuine concerns about the bowlers. In which case, Dhoni batting at No6 would offer the prospect of five frontline bowlers.
All this, of course, may be knocked into a cocked hat if New Zealand repeat their opening session effort of the first test on India's last visit, five years ago in Hamilton.
They dined at 61 for six. India won by 10 wickets and didn't look back.
NZ v India
First test starts Thursday, Eden Park, 11am