Hosts may be rated six places behind India but will fancy their chances at Eden Park.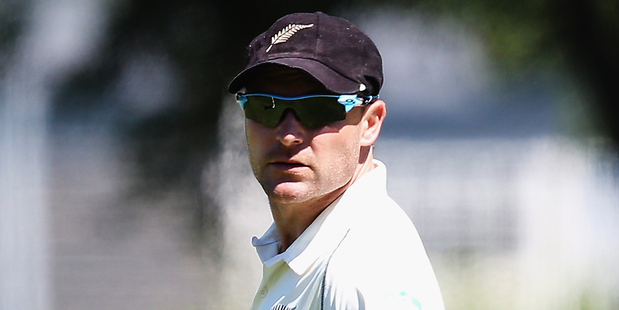 New Zealand are in fine fettle for the start of the Indian test series.
Confidence should be high - even if the format and some of the personnel are changing - on the back of a blend of the West Indian test results and the past fortnight's 4-0 ODI drubbing of India.
Expect captain Brendon McCullum to be in suitably buoyant mood. Now all he needs is a change of fortune when it comes to the toss on Thursday morning at Eden Park.
Since his first test in charge at Cape Town 13 months ago, McCullum has won just five out of 13 test tosses. Add in losing all five ODIs against India and it does not make for particularly pretty reading.
Then again, he's up against another ordinary tosser in MS Dhoni, who has got it right just 21 times out of 51 tests at the helm. Three of those were in India's past three tests.
You'll often hear captains who have lost a toss remark that it was not a bad call to lose, hinting at personal indecision.
Don't believe it. Skippers should like to call the shots, to set the stall out on the first morning as they want.
Still McCullum is not in a low league of his own among New Zealand leaders.
Glenn Turner won just two out of 10 test tosses, Bevan Congdon only four out of 17, Stephen Fleming 37 out of 80 and Graham Dowling 10 of 19.
John Wright got it right eight times out of 14, New Zealand's first skipper, the autocratic Tom Lowry, five times out of seven; while the outstanding John R. Reid, who captained New Zealand to their first test victory over the West Indies in 1956, was a 50:50 man, winning 17 out of 34 as skipper.
Perhaps the strangest toss tale belonged Ken Rutherford, who in 1994 at Eden Park looked on in disbelief as Pakistan's captain, Salim Malik, mumbled something in Urdu and claimed the toss.
"Salim Malik called either 'teds' or 'hails'. Hence he had a few bases covered. He was obviously pretty keen to win that toss because he picked up the coin after it landed and bounced off the pitch," Rutherford later recounted to the Daily Mail.
McCullum might consider that in the five tests he's got the toss right - or his opposite has called it wrongly - his own batting average is up a blink, from 35.21 over his 82 matches, to 36.57.
His captaincy career began ignominiously. He called correctly in Cape Town, chose to bat and was in the field half an hour before lunch.New Zealand's 45 all out, in only 19.2 overs, was among the lowest points of his year at the top - although he personally rated the failure to beat England at Lord's, 68 all out chasing 238 as the nadir.
How much has changed since Cape Town. Consider only four of the 11 will walk on to Eden Park on Thursday - McCullum, Kane Williamson, wicketkeeper BJ Watling and Trent Boult.
Those gone, some perhaps to return, others not, were Martin Guptill, Dean Brownlie, Daniel Flynn, James Franklin, Doug Bracewell, Jeetan Patel and Chris Martin.
What hasn't changed much is the disparity on the rankings board between the two countries.
India are No2 in tests, behind South Africa; New Zealand are eighth.
When they started the ODI series, the positions were first and seventh respectively - and the cricket world now knows what that counted for.
Coin toss - the facts
*A related game, Cross and Pile, was played in medieval England. The Cross
was the major design on one side of many coins and the Pile was the mark
created by the hammer used to strike the metal on the other side.
*The expression Heads or Tails may stem from the German expression for the same game: Kopf oder Zahl ("head or number'') hinting at a mispronunciation of the of the word "Zahl'' into "Tail''.
*In 2001, Nasser Hussain, the England cricket captain, lost the toss for the 14th successive time.
*Every toss carries a 50% chance of being heads, or tails, but you probably knew that.