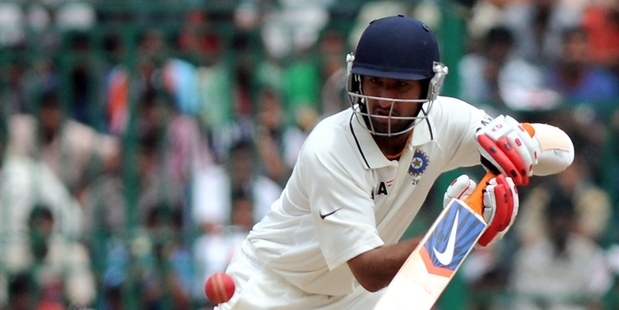 India's best-ranked test batsman is in town.
The visitors' No3, Cheteshwar Pujara, is rated fifth in the world with an average of 66.25 and six centuries (including two doubles) from 17 tests.
Need a further fright? The 26-year-old right-hander is one of just nine batsmen, including teammate Ravindra Jadeja, to score three first-class triple centuries, posting his third during October against West Indies A.
Rahul Dravid was known as The Wall at first drop; India may have replaced him with The Rock.
Pujara's cuts (both square and late) and ability to play the ball under his eyes are a technical highlight; he lasers shots anywhere from cover to backward point, particularly off the back foot, and works the ball well into the legside when it drifts on to his pads. He transfers his weight as efficiently as a rattlesnake.
However, New Zealand will be upbeat given the form of their test pace attack against the West Indies and a tendency for Pujara to play away from his body on occasion which could coax an edge.
He has played only four of his 17 tests outside India (all were in South Africa) so is yet to establish a reputation on all surfaces.
Generating movement rather than pace will mean everything for Trent Boult, Tim Southee and Neil Wagner.
New Zealand will be tempted to drop short on occasion, as they did to test India in the ODIs, but do so at their peril.
Pujara compiled his maiden century against New Zealand during his fourth test in August 2012 at Hyderabad.
He was no slouch in South Africa during the Johannesburg and Durban tests before Christmas. He made scores of 25, 153, 70 and 32 against Dale Steyn, Vern Philander and Morne Morkel, the best pace attack in the world. He averages 75.23 at home and 44.42 away.
Composure is Pujara's strong suit, as when he steered India towards victory against Australia in Bangalore on debut. Pujara's 72, going in ahead of Dravid, was princely as he dispatched Mitchell Johnson etal.
Bowling to Pujara (and India in general) will also be Ish Sodhi's biggest challenge.
With batting quality like Pujara, New Zealand will need to scale greater heights than they did during the West Indies series. Do so and it will genuinely be an Indian summer.