Black Caps' batting ace has master-blaster goals galore as he gets ready for the first test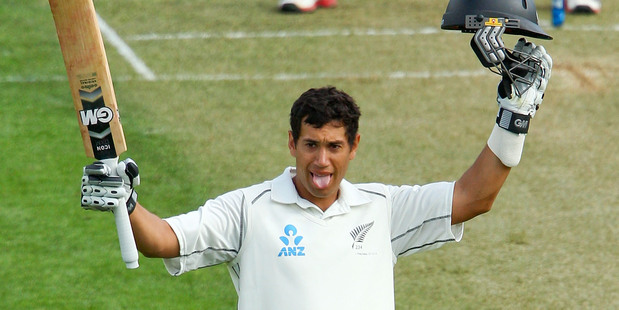 Ross Taylor has had so much success this summer his tongue has almost needed sunscreen.
He has been the chief in New Zealand's batting order - first in the tests against the West Indies then in the one-day internationals against India.
Perhaps he's in need of a title. Chief Luteru, embracing the heritage of his Samoan first name, has a suitable warrior ring for a batsman now third in the world test rankings and 10th in ODIs.
However, every batting warrior from Bradman to Tendulkar needs new worlds to conquer. Taylor is perfectly poised to do so, sitting on an average of 47.51, the highest of any New Zealander with 20 or more test innings. It wouldn't surprise if Taylor kept a well-thumbed copy of the New Zealand Cricket Almanack, the annual tome revered by cricket purists, by his bedside.
The "records" tab of cricinfo.com must surely be listed under his online "favourites".
As he swaps black clothing for white, further records are under threat, presuming the arrival of his second child with wife Victoria is suitably timed for him to play both tests.
At the risk of treating Taylor like a robot capable of resisting all variances in batting or fielding form, here are some targets he might chase when the first test starts at Eden Park on Waitangi Day.
* No New Zealander has scored centuries in four consecutive tests. It is a feat achieved only 15 times by names such as Don Bradman (twice), Everton Weekes, Sachin Tendulkar, Rahul Dravid, Jacques Kallis and Kumar Sangakkara. Only four have gone beyond that - Bradman (six), Kallis, Mohammad Yousuf and Gautam Gambhir (all five). New Zealand's best? Taylor (currently) and Mark Burgess have three.
* No New Zealander has scored four test centuries against India. Taylor, Bert Sutcliffe, Graham Dowling, John Wright and Jesse Ryder have three. Taylor's chances are good, having averaged 64.40 against India at home during the 2008-09 series. He averages 43.92 in 14 innings across both countries. At Eden Park his average is 11 from a solitary test against England last summer; at the Basin Reserve it's 62.33 from eight.
* Taylor has 11 test centuries, equal with Nathan Astle. One more will put him level with John Wright. Martin Crowe's record 17 tons will have to wait.
* Four New Zealanders have scored centuries in each innings of a test: Glenn Turner, Geoff Howarth, Andrew Jones and Peter Fulton. Taylor is a glaring omission, especially as the only Kiwi to twice score consecutive centuries in ODIs following his effort in Wellington on Friday.
* 416 runs in four dismissed innings would take Taylor to an average of 50. Not outs would improve his chances. No New Zealand batsman with Taylor's 53 tests or more has averaged over 50. Martin Crowe got closest (48.41 after 61 tests - he finished with 45.36 from 77).
* Taylor has a better chance of getting records when New Zealand bat first. He averages 70.88 in the first innings of tests, 40.08 in the second, 28.04 in the third and 51.38 in the fourth (a figure skewed by three not outs in 19 innings).
* Seven catches over four innings would drive Taylor's catches-per-innings ratio back from 0.907 (88 catches from 97 innings) to equal with Australian Bob Simpson's world best 0.940 (110 from 117) for those who have pouched more than 70.