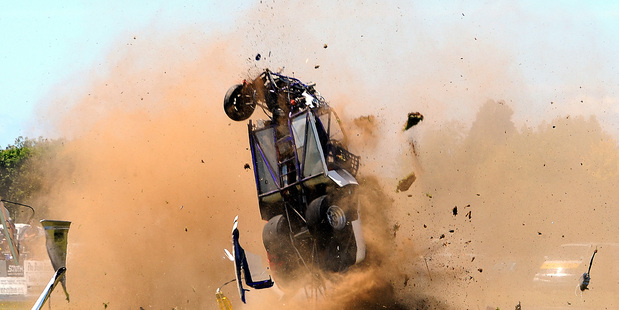 A man who crashed his drag racer at 200km/h - flipping at least four times - says he's "sweet", despite bending the steel steering-wheel column with his chest on impact.
Avon Compton was resting at his Nelson home yesterday after crashing his "one-off" drag racer during the NDRA southern drag racing nationals at Motueka Airport on Saturday.
The 56-year-old digger driver was doing a "by-run" at the time, which meant he was alone on the track and not actually racing.
"Because I had a by-run, I could really wind the boost up and sit on the start line and really give it death," Compton said.
"It was really going well, [I was doing] massive burn-outs - probably the best ones I've ever done - so we knew the car had a lot of power in it," he said.
"So we took off, right up in the rev-range, whacked it into second and it just started drifting slightly towards the grass."
Compton suspects that one of the tyres may have swollen in the sun, causing the car to peel off to the right.
He tried to pull back but by then it was too late. The front of the car dug into the grass verge, flipping "at least three or four times" - the dust cloud was so big it was impossible to tell how many times it actually flipped.
"I went over the first time and that was quite gentle, then halfway through the second one I probably blacked out."
Compton's chest hit the steering wheel on impact, causing the half-inch steel steering rod to bend out of place.
"[It hurt] a little bit, but I'm a tough character."
His only other injuries were heavy bruising from the seatbelt, a banged-up knee and a sore head from hitting the roll bar when the car flipped.
Compton was thankful for the car's safety features.
"The car stood up really well. The roll cage did what it was supposed to do."
The "one-off" car - which he said had cost about $50,000 to build - was written off.
A 12-year veteran of the sport, Compton said the crash would most likely mark the end of his racing career.
But the rollover wasn't his biggest crash. As a youngster, he was in hospital for six months after the car he was in crashed into a power pole.