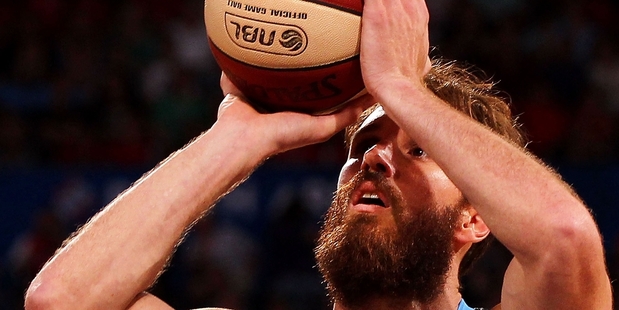 When Alex Pledger was sidelined with an ankle injury late last year, few could have imagined it would be the catalyst for a Breakers comeback.
But, courtesy of Casey Frank's career revival, the defending champions remain in play-off contention despite the absence of their starting big man.
The commentator has defied the doubters and excelled since rejoining the club, helping the Breakers to three wins in his four games. The latest, Thursday night's crucial victory over Sydney, saw the champs edge closer to fourth spot and, with Pledger continuing his recovery, Frank will remain on the roster for at least the next five games.
While Pledger's absence has been a blow, Frank's presence has provided one of the real highlights of an arduous season. The 36-year-old slotted seamlessly into the Breakers' line-up, bringing some of the attributes Tom Abercrombie thinks the Breakers have been lacking since Dillon Boucher's retirement.
"He adds a lot of those little things that perhaps we've missed with Dillon gone," Abercrombie said. "His knowledge of the game is great. He sees the floor really well and is a great passer for a big guy.
"And he sets guys up really well. He's a fantastic screener - he really headhunts and, for a player like myself and the other shooters in the team, it's invaluable having someone like that who you know is going to get you open."
Those are attributes that aren't noticed in a box score and Frank's statistics - 4.3 points, 2.7 rebounds, 1.7 assists - certainly resemble a typical Boucher stat line.
His contribution was exemplified in the victory over Sydney (9-9), which gave the Breakers (8-11) hope of a late push for the play-offs, shooting five-of-seven, crashing the boards and providing energy off the bench.
He was also the victim of a vicious dunk from Sydney's Sam Young, joking later on Twitter about being "posterised". But that play only epitomised Frank's efforts - attempting to block a shot others would have had no part of.
"Casey's been outstanding and his contribution to the win was excellent," said coach Dean Vickerman. "It's been good being able to play Casey at the four and five spot (power forward and centre) - it's let Reuben [Te Rangi] play his more natural position."
Frank's natural position, for the last couple of seasons, has been in the stands, calling games alongside Andrew Mulligan. While he plays for the Tall Blacks and features in the New Zealand NBL, the shift to the court has still been an incredible story.
"He's been watching us play the whole season," Abercrombie said. "It wasn't like we had to spend two weeks trying to teach him the offence - he picked it up like that, and that meant we could just carry on with business."
And if Frank continues to take care of business, his fairytale run could culminate in the finals.