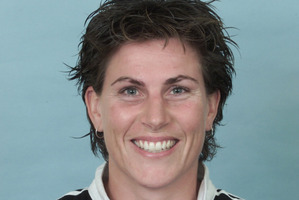 One of New Zealand's most decorated women's rugby players is hoping that the "eyes and ears of the rugby community" can help her retrieve a treasure trove of stolen memorabilia.
Rochelle Martin, who represented the Black Ferns for 12 years, winning three World Cups in the process, lost many of the special mementos from her career when her North Shore home was burgled last weekend.
The thieves took her 2006 World Cup winners' medal, almost all of her World Cup jerseys and ceremonial items she had received to mark various milestones in her career.
"It's all irreplaceable stuff," Martin said. "It was enough of a shock to have your house tipped upside down but I really hit the wall when I realised that I had lost some of my most cherished sporting possessions. I loved playing for my country and worked so hard to earn every jersey."
Despite playing against nations from every corner of the globe, Martin tended not to swap jerseys at the end of the games, which makes the loss of her Ferns' uniforms harder to swallow.
"I didn't like exchanging jerseys," says the 41-year-old Martin. "I always thought we had the best ones."
Martin, who also captained the Ferns several times, is relying on the widespread rugby network in this country to help her regain some of the lost possessions.
"My best chance of getting some of this stuff back is for people to keep an eye out," says Martin. "Most of it is pretty unique stuff - it would be hard to get rid of and is not the sort of thing that you just come across."
Martin played for the Black Ferns from 1994 to 2006. As a loose forward, she racked up 33 caps for the national team - a significant achievement in the women's game as, unlike their male counterparts, they play only a handful of matches each season.
Martin was also victorious at three World Cups: in Amsterdam (1998), Spain (2002) and Canada (2006), beating the US in 1998 and England in the other two finals.
"There are so many great memories from those years," says Martin. "Probably my favourite game was the semifinal against France in 2006 - we played the perfect game as a team. And all of the finals were unforgettable."