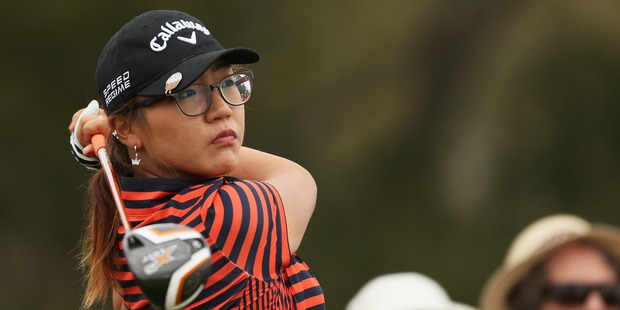 Lydia Ko went to hospital on Friday night to seek help after a bout of gastro illness. They told her it was something to do with her "guts". She headed back to the golf course and there demonstrated she had plenty of guts.
Ko even considered withdrawing from the ISPS Handa NZ Women's Open in Christchurch but she ended up fronting the media after another remarkable round - a three-under par 69 at the Clearwater Golf Club - that sees her in second, only two shots back from the leader American Anya Alvarez.
Ko did that after her stomach bug, a lack of energy and after not eating a meal for almost 24 hours.
"I was really sick overnight," said the world No4 who was clearly jaded. "At one point I was going to withdraw but luckily I didn't. It was a stomach bug and I went to the hospital this morning. They said it was something to do with my guts, they said that there was more wind in there than normal. I don't really know."
Ko wasn't her usual chipper self on the course but most golf fans wouldn't have known anything was wrong as she got to a six-under par total.
She will play in the last group today, with Alvarez and another American, Beth Allen who lies third. It's a situation she should get used to - playing in the final group of a golf tournament on a Sunday is likely to be a familiar feeling for the 16-year-old on tour if she can do this with a misbehaving gastro system.
Alvarez who flew to eight under yesterday courtesy of a six-under 66 in her second round. Alvarez, who could spoil the party for the locals who want to see a Kiwi champion, doesn't quite have the championship experience of a player like Ko.
"I have never led a tournament before so this is pretty exciting," Alvarez said. "But I have to keep my head in the game. I have 18 more holes to play and I have worked really hard and I am very happy to finally be in this position."
The American was well aware there would be plenty of extra attention on her today given she would be teeing it up alongside Ko.
I like playing in front of people - I just hope that they are kind enough to cheer for me when I hit a good shot too," Alvarez said with a laugh.
Tummy troubles weren't Ko's only issues to master yesterday. Pressure is ever-present and has now evolved to expectation rather than hope when she plays, particularly in a field like this where the world No 4 is the best player, according to the global rankings.
Ko's appeal is far-reaching though and up to about 2000 people followed her and playing partners Stacey Keating and Charley Hull during their second round yesterday, which took a lengthy four hours and 38 minutes. The gallery were regularly warned about keeping quiet.
Considering Ko's age, it's remarkable to think she has such pulling power within the game.
"A lot of people come out to watch, it's kind of putting you in the spotlight, the amount of interest, it is quite cool," Ko said after her round. "This kind of thing has all happened quite fast."
It's not something that will die down soon either with more support likely on the final day as Ko looks to become the first back-to-back champion in the tournament's short history.
She said the prospect of etching her name on the trophy again was yet to take over her thoughts: "Maybe if I do get really close or if I'm in that position where I'm leading. But right now I just want to feel better because this is not the only tournament I'm playing for the year. I've got lots to come."
Despite not feeling well, she regularly acknowledged the support from the gallery and shared some banter with Hull's caddy down the back nine as she had a smile on her face.
Just behind Ko, there's a trio of three golfers lurking at five-under, including Clearwater's course record holder Seon Woo Bae, co-leader after the first round.
Australia's Jessica Speechley and Korean Hyun Soo Kim are also in the mix at four-under in a share of sixth and if anyone was to make a run from further back in the field it would need an almighty effort during the final round.
In all, 54 players made the cut, which was at two over. Outside of Ko, the only other New Zealanders to qualify for the final day were Cathryn Bristow, in a share of 16th at one-under and Caroline Bon, who held a share of 41st at two over.
- APNZ