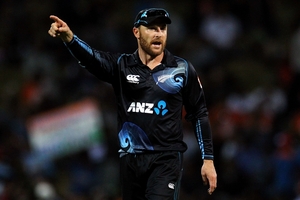 The focus of the New Zealand cricket team's recent success has rightly been on Ross Taylor and Kane Williamson and the conveyor belt of effective, competitive pace bowlers.
That's all very well, but skipper Brendon McCullum has gelled this operation together.
He has taken what can be an infamously fractious team through the years and moulded it into a unit worth the price of admission almost every match so far this summer (the exception being the 203-run loss in the last one-dayer against the West Indies).
Consistency has become a by-word. It's a scenario scarcely imaginable a year ago when cricket in New Zealand threatened to implode following the Taylor captaincy demotion saga.
Sure, the team has had its struggles, like the tests away against South Africa and England and the tour of Bangladesh as recently as October. However, McCullum appears to have got off the plane from the subcontinent at a low ebb and somehow recaptured his mojo.
Perhaps paramount is his man-management which was always seen as a strength were he to ever get the job. McCullum deserves credit for balancing the needs of senior players, in particular Taylor, while convincing younger players they belong at international level.
The 32-year-old appears to communicate clearly and has serene composure, at least in public view, which translates into his team who can be found lacking when under pressure. He's also been selfless, particularly in the one-dayers. Some have critiqued his batting for a lack of big scores this summer but quick runs are more important when the team's been given a Taylor/Williamson platform from which to launch beyond the 35th over in ODIs.
McCullum has received criticism with some questioning whether he deserves his role in the team as a batsman. Cynics continue to chip that he is New Zealand's Mike Brearley, the England captain who was picked more for his captaincy than his top order test average of 22.88 from 66 innings. It's a specious comparison. Brearley was a tentative batsman compared to the ebullient McCullum and had nowhere near his range of shots.
McCullum's averages look good by New Zealand standards: 35.21 in 82 consecutive tests, 30.24 in 229 ODIs and 36.27 in 64 T20Is.
Certainly he hasn't matched those numbers in the recent limited overs series. Against the West Indies he made 104 runs at 26 and a strike rate of 114 in the ODIs and 77 runs at 77 and a strike rate of 138 in the T20Is. Against India he made 102 runs at 25.50 in the ODIs at a 123 strike rate.
What the statistics fail to identify is context. In 11 limited overs innings this summer, he has scored 14 or more than eight occasions. In all but one innings (the 51 to anchor New Zealand's collapse at Eden Park on Boxing Day) his strike rate exceeded 100, generally because his team needed quick runs and he had a reliable batting arsenal lower down.
His 30, 49 not out and 23 against India are prime examples.
A humble McCullum admitted he had been unhappy with his form against India but was delighted his teammates had been scoring heavily.
"I'm disappointed I haven't scored more runs [in the Indian series] but thankfully the 'big dogs' are standing up and getting some," McCullum said, in reference to Williamson and Taylor.
"At the moment we've got two of the best players that New Zealand's ever seen operating in key positions, which makes my ability to set a game plan pretty easy. I hope the environment is positive and allows players to come in, express themselves and enjoy representing our country. It's the greatest time in our lives and we should have a good time while we're here.
"It's great seeing guys mature into their roles and their careers but we're not good enough to be complacent. These guys put in a lot of hours of hard graft."
McCullum has also been helped by coach Mike Hesson whose man-management has had a galvanising effect in the background. Hesson is happy to let his captain lead as most great sides - think Don Bradman, Clive Lloyd and Steve Waugh - have done.
"I'm no show pony," Hesson says. "I just like to go about my work. I'm a clinical sort of bloke who's pretty task focused. I like to follow through on my plans and be as calm as I can, especially when there's often a lot of emotion going on around you. I try to balance out the highs and lows."