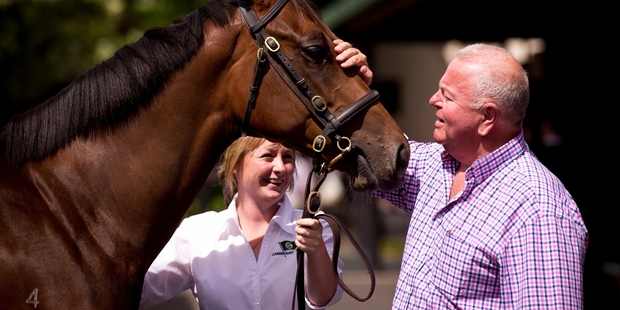 Everyone needs an incentive.
David Ellis has developed for himself a beaut.
Each year as he drives out of the Karaka sales complex at the completion of the sale, New Zealand's biggest yearling buyer makes himself a promise.
He swears off having a drink until the last 10 per cent share is sold in the last of his purchases that year.
After the dust, sweat and anxiety of Karaka, that's a stern promise - particularly this year where he's spent around $7 million on 43 horses.
Ellis is extremely strict with his self-imposed ruling.
Last year, with just a 10 per cent share left in the last horse remaining, a visiting friend from the lower North Island contacted him and asked him out for a drink and the answer was: 'No, not yet'.
"Bugger that, I'm dying to have a drink with you," said the friend. "If that's what it takes I'll take that last share, now let's get going."
With Ellis, Te Akau trainer Jason Bridgman and Te Akau's Singapore-based trainer Mark Walker inspecting close enough to the entire Karaka catalogue, Ellis is always delighted with what he takes home from Karaka.
This time he is especially excited that he bought so heavily on the two days of the Premier Session - 35 yearlings - compared to eight from the first two days of the Select catalogue.
This sale was different from practically all before it.
The Australians, accustomed to having around a 25 per cent exchange rate discount, had to be content with just 8 per cent and that significantly affected the numbers they bought.
It meant the top class horses were better value than ever before because two or three fewer bids on some horses could result in a 20 to 25 per cent reduction in price.
Astutely anticipating that, Ellis went out of the blocks hard on day one and by the end of the first two hours had purchased something like 25 per cent of the horses offered.
"We're thrilled with the horses we got," said Ellis. "And thrilled that we got so many from the quality catalogue. It was very noticeable that the sale got stronger at the Select level - those horses were not the value you got in the top sale."
The commitment by Waikato Stud to sell its entire draft at Karaka this year had a stunning conclusion when they topped the Premier Sale as vendors.
It's often overlooked, but Waikato has been remarkable in its percentage success in identifying and buying its stallions, the results of Savabeel, O'Reilly and Pins underscoring that beautifully this past two weeks.
Avoiding shuttle horses, Waikato has been brave in putting its own money on the line and if fortune favours the brave, the stud has been favoured.
Ellis spent around $7 million at the Premier Sale compared to $4.23 million last year. His extended buying helped elevate the percentage of the premier catalogue remaining in New Zealand. Last year 30 per cent of the catalogue remained in New Zealand and this year a remarkable 42 per cent stayed here.
Ellis and Te Akau have topped the Karaka sale for nine years running, always maintaining one line: "A successful stable starts at the yearling sale."
One of those purchases, Chambord, is hot favourite to take this afternoon's $100,000 Darci Brahma Waikato Guineas.
Now, wouldn't that be cause for champagne celebration.
Well, umm, perhaps not.
Not yet.
With only a handful of horses left to go through the ring on the last day of the Select session at the National Yearling Sales Series most observers weren't expecting the battle of the sale to unfold over several gripping minutes of auction magic so late in the day.
For well-known South Island trainer Kevin Hughes it was tension he jokingly admitted he could have done without before the protracted battle for Lot 1069, the Raise Your Flag filly from Honor Grades mare Emerald Fire was settled in his favour to the tune of $147,500.
Hughes had minutes earlier outlaid $32,000 for an Iffraaj colt from Group One winner Emerald, a transaction that was completed in the blink of an eye compared to the time he spent to fight off some tenacious combatants for the Raise Your Flag filly.
"I could have done without the stress there," he said after signing the sale dockets. "I thought I was going to bluff my way through it but I should have known better as she had that many people wanting to look at her before the sale you knew there were going to be plenty after her in the ring."
Hughes bought the filly for long-time stable client Rodger Finlay, who has Ormond Road, Pamina and several young horses with Hughes and his wife Pam at their Riccarton base.
The daughter of Raise Your Flag was the top-priced filly at the Select session of the sale.
- Additional reporting: NZ Racing Desk