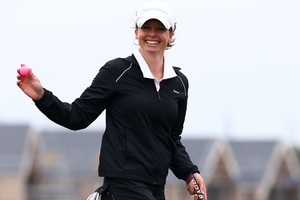 We all know about Lydia Ko's tremendous golfing ability but we got to see her fighting qualities during the first round of the New Zealand Women's Open.
After starting her opening round at the 10th hole with a birdie yesterday, the 16-year-old defending champion experienced a painful first nine holes as she blew out to two over the card after bogeys at the 12th, 14th and 15th.
But you never count quality players out and she blitzed her back nine with five birdies, including two in her final two holes, as she began a timely charge up the leaderboard and an eventual three-under 69.
Ko was in a share of third place overnight, alongside four other players, one stroke behind co-leaders Stacey Tate and Seon Woo Bae.
This week's three-day tournament, which has a purse of $334,000, is all about Ko and the world No4 might have feared the worst during the barren stretch of her front nine.
But in typical Ko fashion she shrugged off the pressure.
"I kind of thought this might not be my day. I didn't really know what to think, especially when you're not playing good in every aspect.
"You can't really tell yourself you're playing well because you're not," Ko said. "I just tried to be confident and that was the hardest thing I had to do."
And while Ko's performance was the focus of the morning, fellow Kiwi Tate finished with an unlikely share of the first-round lead after also enjoying a birdie-laden back nine in the afternoon.
Tate, who also started on the 10th hole, registered birdies on the first five holes of her back nine as she got to as low as six-under before she dropped a shot in each of her final two holes.
The 29-year-old Aucklander, who is based in Sydney, would arguably be the story of the tournament if she was to win, given this week marks the first major step in her return to the game.
After finishing her studies at the University of Memphis in 2008, Tate spent a couple of unsuccessful seasons on the second-tier circuit in the United States before she gave the game away and worked in real estate and as a personal trainer among other things.
But after deciding she wanted to have another crack at the game, she has made a return to the Australian Ladies Professional Golf Tour and earned her start this week through a couple of decent results at pro-am events in New South Wales last month.
Tate's opening effort was all the more impressive given she didn't even get a practice round after she couldn't grab an entry to Thursday's pro-am. "It just felt like easy golf," Tate said. "My goals for the week were to just keep things as basic as possible. Centre of greens, centre of fairways - just thinking clearly out there. You only have to focus for nine or 10 seconds so I am just focusing on that."
Bae, who owns the course record at Clearwater with an eight-under 64, will be another to keep an eye on during the weekend, while there's a group of eight players at two-under in a tie for eighth.
Northland's Caroline Bon was the only other New Zealander under the card after she struck a one-under 71 to be in a share of 16th, while Kiwis Emily Perry and Cathryn Bristow each shot an even-par 72 to sit in a tie for 26th.
Ko was due to tee off in her second round at 12.40pm today.
- APNZ