Classy New Zealand batsman plunders 102 and Williamson chimes in with 88 as golden summer continues against India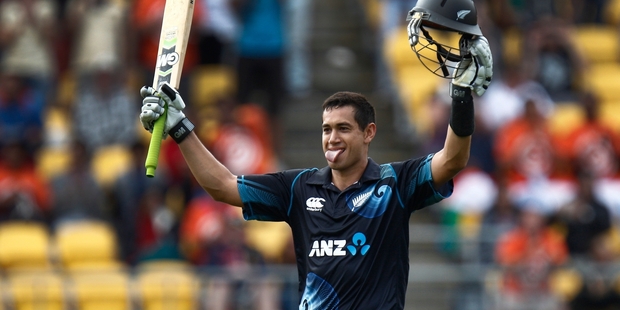 Kane Williamson and Ross Taylor further resuscitated the nations' cricketing pulse in the final one-day international against India.
They continued their imperious streak with a third century partnership in five matches, making 152 runs from 151 balls for the third wicket after coming together in the 13th over.
It helped produce a total of 303 for five, the third highest first innings at the ground. No one has chased higher.
Virat Kohli (82 from 78) and Mahendra Singh Dhoni did their best to respond but it was a tall order, with a rampant required run rate and a bowling attack, led by debutant Matt Henry, in a take-no-prisoners mood. A total of 300-plus on the board has that effect.
Video: Taylor leads Black Caps to triumphAs New Zealanders have become accustomed this summer, Taylor led the way with another century; 102 off 106 balls. It was his 10th ODI century and, given his Hamilton effort on Tuesday, the fourth instance of a New Zealander scoring back-to-back centuries in an ODI after Mark Great-batch, Martin Guptill and himself.
He shut away his legside bravado for the most part, only bringing it out towards the end with a couple of almighty slog sweeps, one of which went for six. Taylor continues to captivate the faithful in what is developing into a colossus of a career.
Williamson made 88 off 91 balls. Again we are seeing the expectations of the child prodigy coming to the fore in the man. All those years in the ascendancy through school and age group level are paying dividends. His biggest asset, next to a Teflon technique, has been his impervious temperament when the pressure's on. He gets about as rattled as a champion sheepdog on A Dog's Show.
He also administered a touch of cheek. The normally respectful batsman launched a slower ball from Mohammed Shami over long-off for six with what appeared a forward defence extension. Sir Viv Richards here we come. Then a ramp shot emerged off Bhuvneshwar Kumar. Hello Virender Sehwag. Add in two footwork-perfect sweeps for four from Ravindra Jadeja outside off stump and it made for a seminal innings.
Williamson became the fourth New Zealander to score a half-century in five consecutive ODIs, joining Guptill (2011-12), Roger Twose (2000-01) and Andrew Jones (Jones made six in a row in 1988-89). If Williamson has, to use the current parlance, a "work on" it's that he is yet to score any of his three one-day internationals centuries at home. Tsk, tsk...
Backing the champions at Nos 3 and 4 were useful cameos.
Brendon McCullum (23 runs off 17 balls), Jimmy Neesham (34 off 19 balls) and Luke Ronchi (11 off 5 balls) got New Zealand plenty at the death.
Jesse Ryder made 17 but produced an unusual statistic in doing so. It was the eighth time in eight ODI or T20I innings that he has been out between the scores of 17 and 23.
India started well with the ball with Kumar and Shami acknowledging Dhoni's call after Hamilton to use their brains and improvise. Their back-of-a-length bowling kept Ryder and Guptill buttoned in the early overs. However, the momentum of the New Zealand innings with wickets in hand eventually enabled them to prosper and each bowler was dispatched for an almost uniform six runs an over.
Dropped catches didn't help; Dhoni's shoulders drooped when Varun Aaron and Shami spilled holdable chances.