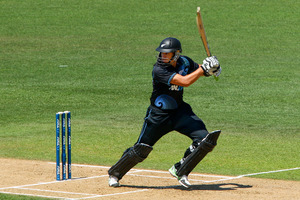 Any concern about complacency creeping into the New Zealand camp with an unassailable lead in the one-day international series against India can be eradicated using three capital letters - IPL.
This is the last limited overs opportunity for the New Zealanders to showcase their talents with the Indian Premier League auction set down for February 12.
A number of New Zealand players have produced quality skite reels this series with the footage beamed to the world's biggest television audience, which includes IPL team owners.
Kane Williamson and Hamish Bennett are the only New Zealanders not on the auction list from today's likely playing XI.
Ross Taylor and Brendon McCullum's reserve prices are highest at 200 Indian lakh [$388,000]; Corey Anderson, Kyle Mills, Nathan McCullum and Jesse Ryder are at 100 lakh [$194,000]; Martin Guptill and Tim Southee are at 50 lakh [$97,000].
The majority of the 18 New Zealanders are at 30 lakh [$58,000].
There's optimism more players might be selected due to the form of the current team and the fact New Zealanders Daniel Vettori (Bangalore), John Wright (Mumbai) and Stephen Fleming (Chennai) are coaches. Their respective captains are Virat Kohli, Rohit Sharma and MS Dhoni who are playing this series.
Nathan McCullum is exercising caution.
"It could go against you. They don't want to be seen to play favourites, plus they know our weaknesses as much as our strengths."
One player not on the auction list is Canterbury's Matt Henry who was called up to train yesterday as cover for Southee and Anderson who are being monitored for injury niggles.
Henry's unlikely to play but was rapt to be making cricket progress of his own.
The 22-year-old right-armer has 55 wickets at 22.70 in first-class matches, 37 wickets at 19.24 and an economy rate of 5.17 in 50-over games, and 21 wickets at 30.90 in T20s.