Williamson and Taylor on track to become Lennon and McCartney of our batting line-up as they look to become best combination at Nos 3 and 4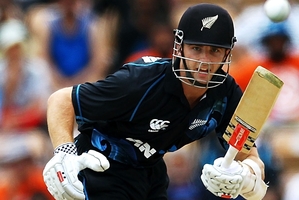 Martin Crowe and Andrew Jones' place as New Zealand cricket's greatest combination at No3 and No4 across tests and one-day internationals is under threat from Kane Williamson and Ross Taylor, particularly in the shorter format.
Crowe was MCC-textbook perfection; Jones was unadulterated grit. Williamson is patience and timing; Taylor is muscle and composure.
Statistics suggest the incumbents are closing in on cricketing territory that once seemed untouchable.
In tests, Crowe and Jones maintain their distance.
They batted together 28 times for 1803 runs at an average partnership of 64.39, including four century and six half-century stands. They set the test world record partnership of 467 against Sri Lanka, 23 years ago this Monday. It held for 6 years.
Taylor and Williamson have combined in 25 outings for 1181 runs at 53.68 with two century stands.
One (262 in Colombo) contributed to the test victory over Sri Lanka before Taylor lost the captaincy. The other led to victory over Zimbabwe in Bulawayo.
However, six of the last 11 innings since Colombo have seen them pass 50 together.
In ODIs, Taylor and Williamson are edging ahead. In 18 innings they have 848 runs, including three century stands, at an average of 49.88. Williamson bats with a strike rate of 78; Taylor's is 82.
Crowe and Jones played 41 innings together for 1588 runs, four century partnerships and an average of 41.78. Crowe's strike rate was 73 and Jones' 58. However, the strike rate comparison is a little unkind, given the ball was harder to get through a less cluttered inner circle to the fence, bats didn't have the same power, boundaries were generally bigger and there was no T20 to challenge cricket's limits.
Regardless of the debate, Williamson and Taylor are suddenly worthy of mention in the same exalted batting company.
Williamson and Taylor are becoming the Lennon and McCartney of New Zealand's batting line-up. Yes, they've got great solo careers but they make their best cricketing music together.
As part of an inspirational New Zealand team this summer they've helped take fans on a magical mystery tour rather than a long and winding road. Partnerships of 121, 60 and 130 have cemented New Zealand's chances of match-winning scores against India.
Until Tuesday, Taylor had somehow avoided the headlines despite scoring 55, 57 and 17 before his match-winning century. Surprising really, given his record-breaking form during the West Indies test series.
His ton highlighted that when Taylor is playing well he summons the self-control to put away his trademark slog-sweep and opts for deft late cuts. In Hamilton, he resisted to a point where he scored only 14 of his 112 runs between backward square leg and midwicket.
At 23, Williamson continues to impress with his batting maturity, especially in the pivotal position of No3. His technical precision has been exemplary building a platform.
Napier was an example; he matched perfect chips over the in-field with a majority of strokes which wouldn't look out of place on a snooker table, such was their adhesion to the McLean Park baize.
His fourth consecutive half-century on Tuesday meant that a chase of 279 always seemed realistic against the world champions. It was the 13th time he'd passed 50 in 48 ODI innings. Theories parroted about him being solely a test player must cease. Textbook strokemaking doesn't make a slow scorer as a strike rate of 82 attests.
Williamson has taken New Zealand past the 32nd over each time this series, being dismissed at 153 for three, 174-3, 189-2 and 188-3, giving the middle order a chance to flourish.
Ying and yang of NZ batting line-up
Williamson and Taylor in the Indian ODI series
1st match
After being sent in, Kane Williamson (71 from 88 balls) and Ross Taylor (55
runs from 82 balls) post 121 for the third wicket. They come together at 32 for
two in the eighth over.
2nd match
Williamson (77 off 87 balls) anchors the innings. He consolidates with Taylor
(57 off 56) to score 60 off 13.2 overs after entering in the 21st over at 114 for
two. Taylor enjoys a 74-run stand with Corey Anderson from 28 balls.
3rd match
Williamson supports century-maker Martin Guptill with 65 off 74 balls. His
ability to push singles highlights his suitability at No3. Taylor has his one
failure of the series with 17 off 18 balls, dropping to No5 to make way for
Anderson.
4th match
Taylor's ninth ODI century (112 off 127) eases him past Stephen Fleming with
just Nathan Astle (16) on the horizon. Williamson completes his fourth
consecutive half-century (60 off 82 balls), combining with Taylor for a third-
wicket stand of 130 after joining the fray at 58 for two in the ninth over.
5th ODI, today, 2pm, Wellington
New Zealand (probable): Martin Guptill, Jesse Ryder, Kane Williamson, Ross Taylor, Brendon McCullum (c), Corey Anderson/Jimmy Neesham, Luke Ronchi, Nathan McCullum, Tim Southee/Matt Henry, Kyle Mills, Mitchell McClenaghan.
India (probable): Rohit Sharma, Virat Kohli, Ajinkya Rahane, Ambati Rayudu, Mahendra Singh Dhoni (c), Ravindra Jadeja, Ravichandran Ashwin, Stuart Binny, Bhuvneshwar Kumar, Mohammed Shami, Varun Aaron.
Pitch/forecast: Wellington is a mixed ground for one-day totals batting first with 10 scores of 225 and above and 10 below. Drizzle is forecast for the morning but the match should be played in fine conditions starting from 2pm.
Key players
Jesse Ryder: The explosive starts are not in question but he's struggling to carry on - his last seven innings in ODI or T20 formats have resulted in scores between 17 and 23. A role similar to his sixth-fastest ODI century against the West Indies wouldn't go amiss.
Mohammed Shami: Started the series well with three for 55 and four for 55 but lost control in the last two matches with two for 84 and one for 61. Captain MS Dhoni has implored his pace bowlers to "start using their brains more" and to hit the back of length mark close to off-stump.
Statistic to watch: A fifth consecutive half-century to Kane Williamson would push him into elite batting territory. Roger Twose (2000-01) and Martin Guptill (2011-12) have achieved the feat for New Zealand although not in the same series. Andrew Jones scored six consecutive half-centuries in 1989-90 including five in the Pakistan series. The international record is nine by Pakistani legend Javed Miandad in 1987.