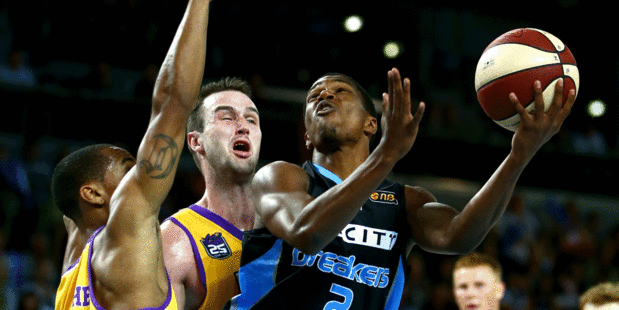 Breakers 105
Kings 87
Much work remains if they are to punch their playoff ticket but the Breakers tonight produced the type of performance worthy of a finals place.
Facing a do-or-die double-header against the Sydney Kings, the Breakers blew out their main competitors for fourth position in one of their biggest wins of the season.
All the good work will probably prove to no avail if the defending champions are to slip up in Sydney next Saturday night. The Breakers ousted the Kings in last season's semifinals and, if they are to make it back, victory must be secured.
But the signs are promising. The Breakers (8-11) claimed back-to-back victories for just the second time during a torrid campaign and, with four wins from their last six, they will have Sydney (9-9) casting a wary glance in the rearview mirror.
After labelling the next week as the start of the playoff campaign in earnest, the Breakers played with a tempo that hinted at their desperation.
But, crucially for their chances, there was no panicking - just a methodical dismantling of one of the competition's in-form sides.
"We knew this was almost a make-or-break game for us,'' said Tom Abercrombie. "We approached it like a playoff game.
"We wanted to bring that intensity, take things up another level to what we've been playing, and carry on the good momentum that we were able to generate last week.''
Kerron Johnson was a stand-out for a second week running, taking over the game at times, particularly in a dominant first half for his side, and getting to the hoop with relative ease.
The point guard finished with 17 points and seven rebounds, while Mika Vukona, showing why he leads the league in field goal percentage, scored 15 on four-of-six shooting. But both men trailed Abercrombie's 20 as six Breakers found their way into double figures.
Casey Frank had 11 points to continue his career revival with another display featuring all his best attributes and, given Alex Pledger is still two-to-three weeks away from returning to the court, the one-time commentator looms as a vital figure.
Frank's hustle in the effort areas is just what the Breakers need as they enter this defining stretch, with the showdown in Sydney followed by two games against sides also scrapping away in the bottom half.
Tonight's game was far from a scrap to begin with, as both sides shot the ball well in the opening exchanges and it seemed as if the home crowd was set for a shootout in a similar vein to last week's win over Wollongong. But after matching the Breakers basket for basket, Sydney were shut down as the quarter wore on and the champs took an eight-point lead heading into the opening break.
Bossing the rebounding count in the second, the Breakers' advantage stood at 19 by halftime. They were good value for their lead, too, continuing to display the requisite intensity in scrambling for loose balls and hustling for second chance points.
The Breakers rarely looked like squandering their lead in a controlled third period, with every possible Kings' revival followed by an illustration of the home side's ascendancy.
Reuben Te Rangi's back-to-back threes were a highlight and saw his side hold a game-high 21-point lead, essentially clinching the game. No one told Sam Young about that likelihood and he continued to pour in the points, but his 21 in the second half were in vain as their runaway opponents sealed another vital victory.
"The challenge for us is to do that again,'' Abercrombie said. "It's a series against Sydney right now and we've got to get this next one.''
Breakers 105 (Abercrombie 20, Wilkinson 17, Johnson 17)
Kings 87 (Young 29, Madgen 20, Carmouche 16)
HT: 55-36
- APNZ